Wednesday, July 28, 2004


Under 21: Life in the designated driver's seat
Being under 21 has never been one of UA students' better excuses for staying sober, as evidenced by the 218 underage liquor violations handed out by the University of Arizona Police Department last year.
With the Mexican border and idea of hooking up with a sexy foreigner within tempting driving distance of the UA, the Summer Wildcat feels obligated to provide its underage readers with legal recreational alternatives. [Read article]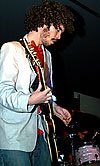 Rock long, rock hard, rock local: Tucson acts to sink your teeth into
The Deludes
Whether or not their motive is to deceive, like their name implies, one thing's for sure about the Deludes: Their music will move you to get up and shake your booty.
With an infusion of punk rock beats, simple guitar riffs and some hints of country, the Deludes' sound is simply fun.
After two and a half years, this threesome ("if you don't count Jesus") of Larry Wawro (guitar and vocals), Scott Alexander (bass) and Ryan Nixon (drums) claims, "we sound like other rock bands, but good." [Read article]




Where style meets cinema
Whether frat boy or hipster, there's a big screen with your name writ large
Any student at the UA needs to know three crucial things: where Campus Health is located, how to get a fake ID and where the movie theaters are.
Campus Health is located at 1224 E. Lowell St.
I don't know how to get a fake ID. If I did, I wouldn't know so much about movie theaters in Tucson. Tragic.
Tucson has a slew of mainstream movie theaters. Most of them, however, are located inside malls, a trend that lost its charm about a decade ago. But then, outdated buildings and misguided trends are part of what make Tucson so charming. [Read article]




The Short List: Tucson's best bars and clubs
All night spots are not created equal; we break it down so you can too
Saturday night means different things to different people. For some, it's an evening sipping martinis under mood lighting and piano jazz. For others, it's grinding your crotch into some anonymous girl on the dance floor and expelling your weight in sweat before being physically ejected from a club by an ex-Hell's Angel. [Read article]



Like a big pizza pie? Try these.
Best place to get a slice that's bigger than your head
Mama's Famous Pizza and Heros, 4500 E. Speedway Blvd.
You'll have to travel a bit farther these days to get to Mama's - there used to be a location across from the main gate - but if you need a ridiculously sized slice of New York-style pizza, it's still the place to go. Don't consider ordering an entire pie; consider whether you want to split a slice. The slices aren't too greasy, especially for NY style. The toppings are a bit sparse, but for less than $3 a slice, it's still a steal. [Read article]




Thrift and vintage shops offer cheap threads for students
Tucson is clearly not the fashion capital of the world. But many students at the UA like to add individuality to their wardrobes by shopping at local thrift and vintage stores.
At the same time, they can save a lot of money buying fashionable clothing at cheap prices - as well as furniture, appliances and just about everything students need to survive college. The idea of buying used clothing or furniture may sound repulsive at first, but UA students quickly realize the price is almost always right at thrift stores. [Read article]




Gallagher Theater offers cheap, solid entertainment
The reborn Gallagher Theater is looking towards a strong new year full of sneak previews, film festivals, documentaries and just-out-of-cineplex films.
The movie theater, located on the main level of the Student Union Memorial Center, 1303 E. University Blvd., will be showing a lot of sneak previews in the beginning of the year and is tentatively planning to show University Activities Board-sponsored films to supplement the weeks that it does not show regularly scheduled films. [Read article]




Student media offers alternative programming
The UA has three media outlets to keep students informed and entertained while attending the the university.
UATV-3, KAMP student radio and the Arizona Daily Wildcat help students keep up to date on current events, emerging music and quality student entertainment all year long.
All three media outlets employ student workers and volunteers, and anyone interested is encouraged to join.
"We are a club on campus; anyone who wants in is welcome to come," said Carson Blaker, KAMP DJ. [Read article]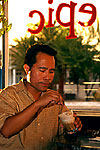 Fourth Avenue vs. University Boulevard - Part One: 4th Ave.
With more than 100 businesses, it's no wonder Fourth Avenue is such a hotspot for UA students. Plus, there's a lot more than just great restaurants, trendy coffee shops, bars and clothing stores.
Fourth Avenue also houses several other businesses including bookstores, yoga studios, record stores, hair salons, tattoo parlors, unique furniture stores, jewelry stores and much, much more.
Every weekend there are special events, and there are two annual street fairs, one in spring and one in winter. [Read article]




Fourth Avenue vs. University Boulevard - Part Two: University Boulevard
College life at the UA revolves around more than just classes and books. Occasionally, students need a place to chill out, eat and possibly buy some new threads.
The shops on University Boulevard and Fourth Avenue make eating and shopping that much more enjoyable.
Even though UA students predominantly like to shop on Fourth Avenue, most students frequent the restaurants and other stores on University Boulevard out of convenience. [Read article]



A smoker's guide to UA campus life
Figuring out where the best places to smoke on campus may seem easy enough at first, but there are roadblocks set out before the uninitiated. All of those signs on the sides of buildings that warn that smoke must be kept at least 25 feet away from the fresh air intakes on UA buildings can make smokers feel oppressed and unwanted.
But, you might say, aren't smokers choosing to exclude themselves from the crowd by smoking? Isn't their seclusion just another warning sign that their choice to light up is tantamount to slow suicide? [Read article]




showAds('bigbutton')?>




showAds('mediumbutton')?>

showAds('wildlinks')?>