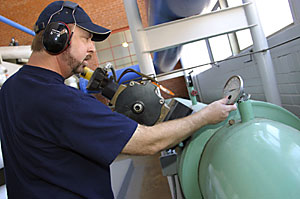 EVAN CARAVELLI/Arizona Daily Wildcat

Jon Woodson, senior stationary engineer at the Central Heating and Refrigeration Plant, takes a manual reading on the intake pipe of one of the four "chillers" at the facility. This 2,500 ton machine provides much of the cold water that campus buildings south of Speedway Blvd. use to stay cool during the summer months.

By Nathan Tafoya
Arizona Daily Wildcat
Friday, September 3, 2004
Print this


Campus utility plants provide AC to UA buildings using one of the largest chilled water systems in the country

Overheated students at the UA walk to class in the triple-digit temperatures of the Sonoran Desert with only one thing on their minds: getting inside and cooling down.

Unbeknownst to most students, one of the world's largest refrigerating systems whirs anonymously inside three campus utility plants everyday.

Even when UA students sleep or take a summer break, monstrous machines painted in primary colors and marked with pressure gauges work to provide cooling and heating for the campus.

"We have a saying in utilities: If nobody knows we're there, it doesn't get any better than that," said Gordon Bush, chilled water utilities coordinator and Facilities Management technician.

"If you're cooled, if you have water out your faucet, if the lights are on - then you don't even know we exist and we're very happy," he explained.

By foregoing individual buildings' refrigeration units and boilers with its own chilled water system, Facilities Management is able to maximize energy efficiency and keep utility, production and maintenance bills to a minimum.

Bill Wilson, associate director for Facilities Management, said the UA spends about $25 million a year in total utilities; about $16 million of that is for electricity.

Wilson said he depends on people with expertise, like Bush, to ensure that the machinery in the chilled water system is working as efficiently as possible, and said he lets the dollars sort themselves out.

"You guys don't care," he said about students and utility costs. "If we said 'We don't have enough money to cool your dorms today. We'll try and get it up to cooling tomorrow.' How do you think that would go over?"

There are more than 170 buildings within the 355 acres making up the main and Arizona Health Sciences Center campuses of the UA.

The UA is distinct from other Tucson facilities, in that it uses three utility plants to provide centralized cooling and heating to about 140 of those buildings.

According to Marianne Deutsch, the senior staff technician at Facilities Management, buildings not connected to the utility plants and that have their own chillers are huge refrigeration units which cost twice as much to cool as those in the plant system.

"In the future, we're trying to get rid of the stand-alones and put them on the chilled water system because it's cheaper," said Deutsch.

She added that the stadium skyboxes and the Mirror Casting Lab, which have their own air conditioning units, are in the process of being converted to the chilled water system.

Deutsch said hotels like the Marriott use similar cooling concepts, but that most of their machines can fit into an equipment room.

"We're one of the largest chilled water systems in the United States," said Deutsch. "The World Trade Center was a big one. The Pentagon was a big one. At the time, I think we were in the top three."

The UA is always adding to its already vast site. Some of the construction on East Helen Street is dedicated to the extension of chilled water tunnels, which will connect the entire campus.

How it all cools down

The UA's chilled water plant system uses more than five miles of piping and a stock supply of about 5.2 million gallons of recirculated water to keep the UA refrigerated.

The process begins with electricity generated by two turbines, or jet engines, located in two different plants, one by the Physics and Atmospheric Sciences building and one near University Medical Center.

Steam created by the turbine exhaust is captured and shipped via pipes to dorms, science labs and UMC for such uses as sterilization and hot water.

Electrically-powered by the combined 12-megawatt output of the turbines, numerous chillers are able to efficiently chill water.

Chilled water at 42º F is then piped to various buildings throughout a connected tunnel system within the campus floor, a process that cuts down on both maintenance and production costs.

"We had some squirrels move in," said Bush, pointing to a small hole in the floor of a tunnel. "I see he's dug him a hole there. All right, we'll have to bring him some food then."

The tunnels, most of them large enough to walk through, have dirt floors and run beneath UA streets toward various buildings, creating a natural cave-like eeriness under classrooms and streets where perspiring students walk to class.

"And then in the buildings, basically there's a radiator, and we put the chilled water inside the radiator and blow air across the radiator so it makes the air cold," said Bush. "So that's how we cool a building."

Bush said the chillers operate on the same principles as a home air-conditioning unit of vapor compression refrigeration. And like home units, chillers themselves have to be cooled.

Cooling towers, which are essentially huge coolers two to three stories high, use cascading reclaimed water to remove heat from the system.

"We save up to 1 million gallons of groundwater a day by using this, as opposed to using groundwater," said Bush, as a reclaimed waterfall roared behind him inside one of the towers.

Bush said Facilities Management tries to be as environmentally conscious and efficient as it can.

"That was one of our big goals in that we're the only ones in the country doing that," said Bush, about the cooling tower water source, which costs more than ground water. "We're kind of on the cutting edge on using the reclaimed water."

In fact, the chilled water system also uses ice fields to supplement its chillers. Ice is made in 102 storage tanks during the night and can be harvested on demand.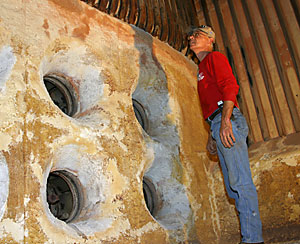 EVAN CARAVELLI/Arizona Daily Wildcat
Jeff Hampton, lead plant mechanic at the Central Heating and Refrigeration Plant, inspects the insides of boiler #3, which provides campus with steam and hot water that heats campus buildings during the winter.
Set the temperature
Then there is Facilities Management's maintenance department, Heating Ventilation and Air Conditioning, the service responsible for setting thermostat temperatures at the UA.
"We're the guys who come in for all your 'too hot, too cold' calls," said Mark St. Onge, the supervisor for HVAC, about people who call about uncomfortable room temperatures. We get about 20 calls a day."
The UA has over 5,000 thermostats according to Richard Knott, assistant director for building systems maintenance services at Facilities Management.
HVAC is not to be blamed entirely for students carrying sweaters to class in 100-degree temperatures; a higher authority tells them where to set UA thermostats.
In 2001, when California was dealing with an energy crisis, former Gov. Jane Dee Hull issued Executive Order 2001-8 to reduce energy consumption and peak demand in state facilities.
The directive ordered thermostats to be raised two degrees.
"We ran into some problems with that because of the differences in the sophistication of the systems within the buildings," said Knott. "If you just arbitrarily raise everything two degrees, you could wind up using energy instead of saving it."
HVAC evaluated campus buildings on an individual basis.
Knott said the rule of thumb HVAC came up with for UA buildings is 75Þ F.
Bush said that when the UA campus was designed, it was decided that only 1 percent of the year yielded above-105º F temperatures. Buildings and systems were designed for that temperature maximum.
Most UA buildings use a combination of two temperature-control systems: an older pneumatic system, which Knott described as a step up from those found in residences, and a computerized direct digital control system.
DDC systems allow HVAC state-of-the-art control over temperature and energy expenditure, including occupied/unoccupied modes for different parts of the day.
"They can be individually monitored from a remote computer," said Knott of the DDC thermostats. "I'm able to look at several buildings from my office ... on my computer."
Knott said digital control is also a financial benefit as HVAC deals with school budget cuts and having to do more with less.
Chillin' in class
In order to keep the UA's more warm-blooded building occupants from turning buildings into igloos, covers have been screwed and locked down over thermostats.
St. Onge said while some thermostats may allow building occupants to change the temperature a few degrees, the range in temperature difference allowed would be minimal.
And there are a lot of reasons why a building or classroom may seem especially cold, beginning with the individual.
"Temperature, I think, is a very subjective medium," said St. Onge. "You know, we have a lot of problems where you have two folks sharing the same office sitting at desks maybe adjacent to each other, and person A is hot and person B is cold."
Students like Kim Unangst, an education junior, have observed that one gender seems to get colder more.
"Girls are always the ones wearing their little sweaters," Unangst said.
Pre-business freshman, Jeff Burdo, said small classrooms are colder than auditoriums.
"The big classrooms, I think, are pretty adequately cooled," Burdo said. "But when I walk into a small class, I notice, and I'm like 'Damn!'"
Sometimes there is legitimate drop in temperature, though that has nothing to do with gender or low blood circulation. Thermostats are mechanical devices and can fail or break.
"If their temperature is not correct, let's say it's actually freezing in there, there could be a device that's malfunctioning or needs to be calibrated," said St. Onge about buildings.
Uncomfortable temperatures resulting from too much or too little air volume flowing into a room could also be attributed to design issues of the building, especially if the building is older.
"The systems they've got in there, maybe they weren't even considering at the time that the heating systems went in, and they were retrofitted say in the '40s or '50s for air conditioning," said St. Onge. "It's just a poor design."
St. Onge said the process of renovating an older UA building to meet contemporary air flow standards would require closing down the building, ripping out walls and reworking air duct configuration.
"It seems like the number one problem for any building is comfort," said St. Onge, adding that other factors contributing to discomfort include humidity and vent adjustments.
"It's really good to go inside after you've been outside in the heat," said Adrian Armour, a linguistics freshman. "I'm from Colorado so this sucks."
In the end, Knott said that in order for people served by thermostats to feel comfortable, a lot of compromise is needed.


Write a Letter to the Editor