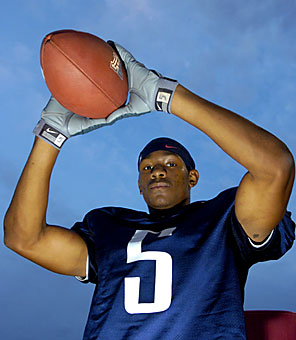 CHRIS CODUTO/Arizona Daily Wildcat

Freshman Antoine Cason made an immediate impact on the Arizona secondary in his first game against NAU, forcing two fumbles, intercepting one pass and racking up 12 solo tackles.

By Shane Bacon
Arizona Daily Wildcat
Wednesday, September 8, 2004
Print this


Antoine Cason entered his first collegiate game as a true freshman, hoping to make an impact in the secondary and left as the Pacific 10 Conference's Defensive Player of the Week. Cason: was the first Wildcat freshman to earn the award since Michael Jolivette in 2000 and was the first Arizona player to receive the honor following his first game. The Los Alamitos, Calif., native left the field as arguably the most influential player of the night, racking up 13 tackles (12 solo and one for a loss), one tipped pass, two forced fumbles and an interception. The freshman cornerback sat down with the Wildcat to talk football, ladies and who is more intimidating: Mike Stoops or Mom?

Wildcat: Going into your first collegiate start, could you have ever imagined a game like the one you had?

Cason:No, I really didn't imagine a game like that. I imagined it to be pretty solid. I wanted to feel comfortable and be comfortable, play my game, and if I played my game I'd have results just like I did.

Wildcat: Was that game just the cherry on top of all the hard work you've put in over the summer and during the offseason?

Cason:It felt real good. It was the cherry on top, whipped cream, everything. It felt good to get that first win in my first collegiate game.

Wildcat: You had 10 interceptions in your last two years of high school and one in your first collegiate game. Have you ever thought about switching over to receiver with those sticky hands?

Cason: No, I like playing defensive back. I like guarding (receivers).

Wildcat: What are some impressive things you find in head coach Mike Stoops?

Cason: Just his personality and his coaching techniques. I feel really comfortable around him and he teaches me what I really need to know and if I play how they tell me to play, everything will be great.

Wildcat: Your dad played for the Atlanta Falcons and you have two cousins that played in the NFL. Is it in your genes to be a successful football player?

Cason: Well, it's in my genes but it also takes hard work and dedication. You have to have the desire to be successful.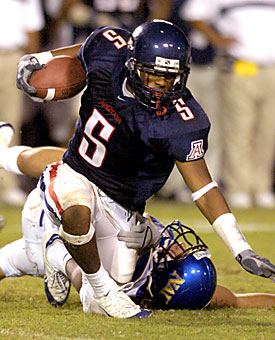 CHRIS CODUTO/Arizona Daily Wildcat
Antoine Cason was the first freshman to earn the Pac-10 Conference's Defensive Player of the Week honor since Michael Jolivette in 2000.
Wildcat: What would your dad rather happen; the Wildcats make a bowl game or the Falcons win the Super Bowl?
Cason: With the father that I have, he would rather have me go to a bowl game. He feels real confident in me and supports me in everything I do, and he's always 100 percent behind me.
Wildcat: Would you rather get chewed out by Coach Stoops or your mom?
Cason:(Laughter) Oh that's a tough one. I'd rather get chewed out by Coach Stoops because that tells me that he cares about how I play.
Wildcat: What feels better; a blind side hit on a quarterback, forcing a fumble, or catching an interception?
Cason:Catching an interception, because you can always run with it and make something happen.
Wildcat: Who are hotter, the women from Los Angeles or the women from the UA?
Cason: Oh man, there are a lot of good-looking women here. I've been laying low, focusing on football and my schoolwork, but there are a lot of nice girls around here.
Wildcat: If you were the Oregon State kicker, could you have made one of the three extra points against LSU to win that ballgame this past weekend?
Cason: Oh yeah! I could have made one of those at least. What got into him that game? Oregon State still played good though.
Wildcat: Who is the scariest looking guy on the team?
Cason: (Laughter) I would have to say Lawrence Ball.
Wildcat: Who would you least like to line up against on the team?
Cason: I would least want to line up against a player like Mike Bell.
Wildcat: What is it going to take to beat a team like Utah?
Cason: It's going to take balance. We have to have a great defense and we have to have a great offense. Defense is the key and I feel if everybody plays their part then we can stop them and give the offense a chance to do their thing.
Wildcat: You think you can beat them?
Cason: Oh yeah, I feel in my heart we can hang with those guys.


Write a Letter to the Editor