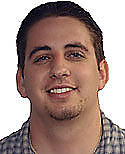 Brett Fera
Arizona Daily Wildcat

By Brett Fera
Arizona Daily Wildcat
Wednesday, September 8, 2004
Print this


Just how monumental is the Wildcat soccer team's start this year?

Head coach Dan Tobias' team has jumped out to a spotless 4-0 record so far this season by winning a pair of tournaments over the past two weeks, including the Wildcats' own Arizona Invitational last weekend.

Considering that this Arizona program - in its 10 seasons of existence - has never posted a four game win streak of any kind before now, "impressive" just slightly trumps "it's about time" as the first idea that pops into mind.

The Wildcats won just six games last season, a mark widely considered among the most successful seasons in program history.

Arizona has the chance to reach that mark this weekend - just three weeks into the season - when it heads east to face West Virginia and Duquesne. Defeating WVU won't be easy, though. The Mountaineers are 3-1 so far this season and finished 17-4-2 last season en route to an NCAA tournament berth. Duquesne is just 1-3 so far this season.

Even still, the most striking stat to date is Arizona's blemish-free scoresheet.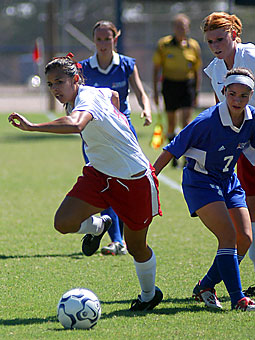 CLAIRE C. LAURENCE/Arizona Daily Wildcat
Senior forward Kamaya Damwijik pulls away from defenders in Sunday's game against Fairleigh Dickinson University. The team will face West Virgina Friday in Morgantown, W.Va.
After scoring just 23 goals and allowing 33 in 19 games a year ago, the Wildcats have already scored 12 times in just four games, all without allowing a single goal.
Freshman goalkeeper McCall Smith of Salt Lake City hasn't had to save many shots - 14 to be exact - en route to etching her name to the UA record book, but she already, after just two weeks on campus, is tied for second on the UAcareer shutout list with four.
Smith has become Arizona's equivalent of the closer in baseball. Her teammates build the lead while she and the UA defense in front of her shut the door.
The baseball analogies (work with me here) don't stop there.
For the first time, Arizona has a significant recruiting presence in the state of Arizona with Tobias using Phoenix-area club team Sereno as his virtual minor league affiliate. Five of the Wildcats' 12 newcomers in 2004, including starting defenders Claire Bodiya and Kaity Heath, were members of Sereno's Golden Eagles before heading south to Tucson. Heath scored the only goal during Arizona's 1-0 win over UC Irvine Saturday. Heath lined up at the northeast point of Murphy Stadium for a corner kick only to bend one in on her own past the Anteater defense.
Only one glitch in Tobias' system seems to be lurking on the horizon.
Junior forward and team co-captain Kelly Nelson, who scored a school-record 13 goals in 2002 before spending most of last season hobbling from a knee injury, is expected to return in the near future to an already potent UA offensive lineup.
Nelson had offseason ankle surgery, putting the scoring duties in the hands of last year's leaders, senior Candice Wilks and junior Mallory Miller. Wilks led the Wildcats with eight goals in 2003 while Miller followed with five of her own. The duo already has combined for five goals and is joined up front by walk-on Kamaya Damwijk, a senior who spent the last three years on the UA's club team. Damwijk has two goals of her own thus far.
Damwijk and Wilks both play forward, while Miller starts every game at midfield.
But Tobias isn't afraid to move Miller up front if he needs some scoring punch, posing the question: Where does Nelson go when she returns?
For a team that lost or tied nine games by a goal or less last season, having too much firepower is an issue Tobias most certainly would welcome.
Heads up Cason: Stoops' success in your hands
Antoine Cason, he of the 13 tackles, one interception and two forced fumbles in his first-ever college game, appears to be not only a talent on the field and hard worker in the weight room, but an all-around gracious guy as well.
His pair ball-jarring hits not only helped earn him Pacific 10 Conference Player of the Week Honors, but already puts him just three shy of the UA single-season record, and just one back of last year's leaders, then-seniors Gary Love and Joe Siofele.
Cason's play could draw early comparisons to that of the departed Michael Jolivette, but let's just hope he creates a legacy of his own.
Jolivette's career was no disappointment by any means, but his production considerably tapered off after he earned multiple freshman All-American nods during and after the 2000 season.
But midway through that same freshman campaign, during a game at Oregon, Jolivette was rocked on a hit by Duck linebacker Wesley Mallard (I'm not making this up).
The alleged helmet-first hit came at the tail end of a UA punt, knocking Jolivette out of the game and leaving him with a few loose teeth, 11 stitches and a permanent four-inch scar on his chin. Jolivette became an instant Sportscenter celebrity, but he never fully regained the psychological edge that was lost that game.
Going in, Arizona was 5-1 and Jolivette had already picked off five passes.
The Wildcats lost that fateful day to Oregon, 14-10. In fact, Arizona didn't win another game for the rest of the season, finishing 5-6 and out of a bowl game, and Jolivette finished the season with, yes, five interceptions.
The collapse led to the ousting of Dick Tomey, the school's all-time winningest coach.
You all - and John Mackovic - know what happens next.
Is it right to compare Cason with Jolivette this early? No, but keep your chin up anyway, Antoine (literally). It just might keep Mike Stoops employed.
Brett Fera is a journalism and communication senior and sports editor of the Wildcat. He can be reached at sports@wildcat.arizona.edu and can be heard "In the Zone," every Tuesday at 6 p.m. on KAMP Student Radio.


Write a Letter to the Editor