Wednesday, July 27, 2005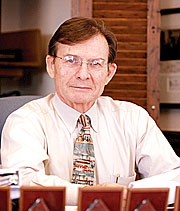 Upon entering the University of Arizona, freshmen will be assailed with advice ranging from "work hard" to "don't take the east elevator in Koffler because it smells funny."
However, the best advice may come from a man who has been in the university system for more than 50 years: UA president Peter Likins.
Prior to coming to the UA, Likins served as president of Lehigh University, provost of Columbia University, a professor at UCLA and a development engineer at the Jet Propulsion Laboratory at the California Institute of Technology. He received a bachelor's degree in civil engineering at Stanford, a master's degree at the Massachusetts Institute of Technology and a doctoral degree at Stanford. [Read article]

·
University update
·
New ASUA president hopes to improve student life
·
Financial aid available for all UA students
·
Advising, tutoring keep students on graduation track
·
Stay on UAPD's good side: Just say no on campus
·
Get your greek on
·
Student union provides food, entertainment and services
·
Drinking 101:the other gen-ed
·
Getting to and around campus, without a car
·
Counseling, birth control available at Campus Health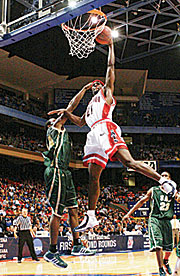 A: ASU - Is any explanation really necessary here? The "other" state university, known originally as the Tempe Normal School, has nothing on Arizona's first university. ASU's satanic descendants failed to pick up a win last year in any of the big rivalry matchups. Football? UA. Basketball? UA twice. Softball? UA three times. Baseball was the lone Wildcat "disappointment," winning only four of five meetings. Too bad.
B: Bear Down, Arizona ... Bear Down, red and blue ... Bear Down, Arizona, hit 'em hard, let 'em know who's who ... Bear Down, Arizona ... Bear Down, red and blue ... fight, fight, Wildcats fight ... Arizona, Bear Down! [Read article]

·
Commentary: A-S-who? Devils no match for UA in '05
·
Students get new home in McKale
·
UA traditions
·
Commentary: UA sports and you: a beautiful relationship
·
In Person And On The Tube...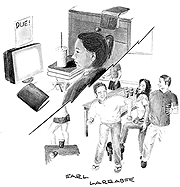 This is a column about screaming your lungs out as UA football destroys ASU, jumping into the Old Main fountain mid-afternoon because it's hot in August (and September and October and November), rocking McKale as Salim sinks another NBA-range three, getting the chills when the marching band plays "Bear Down, Arizona," watching UA softball coach Mike Candrea lead the U.S. Olympic team to the gold, tailgating our hearts out for Homecoming and relaxing in Mexico for Spring Break. [Read article]

·
Going greek: Rush? Yes. Pledge? Maybe
·
Who's who in the red and blue
Latest Issue: July 27, 2005

showAds('bigbutton')?>






showAds('mediumbutton')?>


showAds('wildlinks')?>