September 15, 2005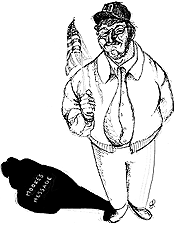 Michael Moore wrote an open letter to George Bush that has been circulating around my e-mail inbox throughout the past few weeks, and it is a perfect example of why he's extremely great and, simultaneously, a colossal jerk.
The letter is basically a laundry list of everything Moore feels the Bush administration did wrong or wrongly didn't do in regard to Hurricane Katrina.
He brings up some salient points that the country should be asking itself right now, like how the war in Iraq might have affected the National Guard's response to the hurricane and how global warming might have affected the ferocity of the hurricane itself. [Read article]

·
Workin' hard ... for the money?
·
Editorial: Little need for search committee secrecy
·
Mailbag
Latest Issue: September 15, 2005
require('/home/webby/html/papers/98/polls/current.php')?>

showAds('bigbutton')?>






showAds('mediumbutton')?>


showAds('wildlinks')?>