Wednesday, October 27, 2005


Art from an artist's perspective
Artists are continually breaking the barriers between two-dimensional and three-dimensional art. Back in the day, artists only created pieces that could be classified as either a painting or a sculpture, but these days contemporary artists are constantly finding new ways to combine them, using various materials in innovative ways. Newer forms of art have emerged, like installations, which transform an entire space or room and can be experienced instead of just seen by the viewer. [Read article]




Tucson and campus calendar
Today
Picturing Arizona - The Photographic Record of the 1930s - Katherine Morrissey of the department of history will talk about the WPA works on exhibit at the UA Museum of Art as well as her new book. Part of the Artbuzz series. 2 p.m. to 2:45 p.m. Free. UA Museum of Art.
Greek or Treat - You don't have to dress like a falafel, but you should wear some kind of costume if you want to have fun at this student-run carnival. That is, if you're going to take part in the trick-or-treating. 6 p.m. to 7:30 p.m. Free. UA. East First Street between North Mountain Avenue and North Vine Avenue [Read article]



Scatter shot
A Sarcastic comment
With Ashlee Simpson at the top of the Billboard charts, "Doom" leading the box office, and Fox creating an entire network devoted to reality televesion programming, it's pretty clear that America's taste is finally improving. Want more confirmation? "Two and a Half Men" is the No. 1 comedy on television.
Gripe of the week
The World Series ended short and sweet, with the White Sox sweeping the Astros. Thank God, because I don't think anyone can stand another Tim McCarver broadcast. While Joe Buck is serviceable as the play-by-play man, McCarver ruins moment after moment with happiness-crushing color commentary. Everything he says has either already been thought by the millions watching at home, or is so pointless that only people who have been huffing paint for years could find it interesting. Bring back "Major League's" Bob Uecker. [Read article]




Bluegrass comes to Tucson
The state of Tennessee might be best known as the landmark of Elvis and other big-time music legends, but it is also known for being the starting point for up-and-coming bluegrass musicians. While we do not quite have the same sort of following for the "country, but not" genre of music, Tucson is bringing us some of that Southern flavor to the sixth annual Tucson Bluegrass Festival.
Bluegrass musician and Tennessee native Tim Tipton will be at the festival with his band, Blue Moon Rising, among a handful of other groups. [Read article]



You always remember your first time: But there are times I don't remember
To those of you who are new to the college version of Halloween, allow this to be a cautionary tale because it's nothing like the sugar-drenched nights you spent trick-or-treating as a child. It seems to me that the All-Hallows of high school graduates is merely an excuse for girls to prance around as close to naked as possible while everyone gets trashed beyond compare. Not that there's anything wrong with a little orgy of debauchery once a year, but if you're not prepared, you might wake up Nov. 1 realizing that you don't remember any tricks, let alone treats. [Read article]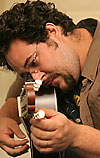 Classical guitar all the rage at UA
It's an unfailingly human trait to compare ourselves to others. Blame ego, blame insecurity; but somehow there's a drive to find out who we're better than and who blows us out of the water. After going to a guitar recital featuring some of the finest guitarists in the UA guitar program, watching these people in action can make you feel like you've got sausages for fingers.
The aforementioned guitar recital was held Friday at Slonaker House and served a preview of what's to come at the upcoming, third annual Thomas H. Beeston Memorial Guitar Competition, which takes place Sunday. [Read article]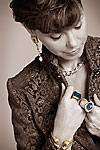 UA alumna combines art, writing
Konstantina Mahlia is a UA alumna who recently released her first book, a memoir titled "House of Many Faces," which is a piece of visual as well as literary art.
"The book has a really unique format," said Mahlia. "The book is written almost in a biblical style with double columns, and each chapter has its own font. I wanted to give a sense of story, almost like how you do with calligraphy." [Read article]



Halloween: Because not being you is a good thing
Of all the holidays, Halloween definitely ranks as one of the more enjoyable days of the year and for good reason. The combination of high-fructose corn syrup, indulging mildly in pagan rituals and hijinks involving flaming packages of animal feces all while dressed in a costume is probably the highlight of the year for many and the only reason the autumnal months don't get forgotten between the languid days of summer and the holiday festivities of the winter. [Read article]




What to watch for Halloween
Halloween can sneak up on you. That's why you have to start early.
Instead of the traditional top-10 list of scariest movies of all time, I've devised a strategy to get you prepared for the big day. From today until Halloween, watch a movie a day and you'll be ready. But because you don't want to get burned out on horror, it's important to mix the genres while keeping the Halloween theme.
Today - 'Rosemary's Baby' [Read article]




True life better than the movie
Movies on the Lifetime channel are always terrible.
It's not because the actors - who mostly come from "90210" or the WB - are terrible, although they are.
It's not the story's fault, because they are often compelling on paper.
The problem is all the emotion. Or rather, it's because of the overt attempt to show just how much emotion there is in every scene.
While "North Country" is on another level in terms of production value, some of the Lifetime's problems plague the film and hopefully foil any hope Charlize Theron had of winning another Oscar. [Read article]



Motion City Soundtrack keeps busy
When one sees a band with success on MTV and the misfortune of being lumped into the squeamish category of pop-punk, one assumes they can usually pinpoint the influences. This is not quite true with Motion City Soundtrack, whose bizarre, but catchy sound hints at diverse influences - something drummer Tony Thaxton acknowledges.
"Kind of as a whole, this band's sound comes from bands like The Pixies, Superchunk, Get Up Kids, The Rentals and things like Fugazi to Ben Folds," Thaxton said. "There are a lot of different things going on." [Read article]




The Detroit Cobras light our fire
Usually, when you read an interview in the Arizona Daily Wildcat in question-and-answer format, it's because the artist/musician/actor was interviewed too close to deadline to craft it into delicate prose. This was not the case with my interview with The Detroit Cobras' guitarist Mary Ramirez, but I could never do her quotes the justice they'll do all on their own.
The Detroit Cobras are a female-fronted blues/R&B cover band from (if you don't know, I'm not telling) that make some of the rawest, most exciting music around. Their third album, Baby, has 19 covers of the greats (like Otis Redding and Bobby Womack) and includes an original, "Hot Dog (Watch Me Eat)." Coming from the garage/blues Detroit scene, but sounding completely unlike any of their competition/allies, The Detroit Cobras will rock Plush, 340 E. Sixth St., on Halloween. The Sweat Band and The Reigning Sound open the 21-plus show at 9 p.m. Tickets are $10. [Read article]




showAds('bigbutton')?>







showAds('mediumbutton')?>

showAds('wildlinks')?>