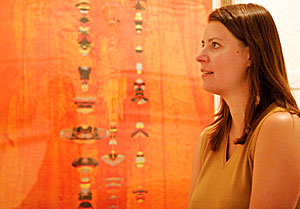 Taylor House/Arizona Daily Wildcat

UA Museum of Art curator of education Lisa Hastreiter-Lamb poses in front of a painting by contemporary artist Judy Pfaff, who will hold an artist lecture tonight at 7 in the Center for Creative Photography Auditorium.

By Miriam Weisberg
Arizona Daily Wildcat
Wednesday, October 27, 2005
Print this


Artists are continually breaking the barriers between two-dimensional and three-dimensional art. Back in the day, artists only created pieces that could be classified as either a painting or a sculpture, but these days contemporary artists are constantly finding new ways to combine them, using various materials in innovative ways. Newer forms of art have emerged, like installations, which transform an entire space or room and can be experienced instead of just seen by the viewer.

Today artist Judy Pfaff, well known for her installation work and printmaking, will be publicly lecturing about her prints displayed in the UA Museum of Art. Pfaff is an established artist who is a 2004 MacArthur Fellow (a prestigious award for artists) and is constantly walking the line between two-dimensional and three-dimensional artwork. Although she received her master's in printmaking, it was not until the late '80s or early '90s that she returned to printmaking after making a name for herself with installation exhibits.

"(An installation is like) taking a painting and making it physically three-dimensional so that you can walk through it," said Lisa Hastreiter-Lamb, curator of the museum.

Pfaff uses a variety of materials to create her installation pieces and prints, using natural materials such as tree roots and leaves. She also uses store-bought wires and tubing as well as photography and computer graphics to incorporate other forms of imagery.

Pfaff's prints and how her installations work is reflected in them, Hastreiter-Lamb said.

"You can see that (Pfaff) is very much influenced by that experience of working both two dimensionally and three dimensionally in combination. When you look at these prints there are a lot of layers and materials incorporated in her works," Hastreiter-Lamb said.

One of her prints, "Encyclopedia," is a dynamic print, which is made in a series of layers creating scientific but striking images that show a labor-intensive process, Hastreiter-Lamb said.

She has a great sense of color and is not afraid to go with i
- Lisa Hastreiter, LambUA Museum of Art curator

The process of creating "Encyclopedia" gives its audience a sense of time and knowledge in science and the natural world. It is a print made first on sepia paper, then layered with wax. Then it is layered with another print in red and offset in blue, followed by dripped and dyed resin. It shows images of animals, shells, flowers and texts, with bold colors and other various natural forms, Hastreiter-Lamb said.
"(Pfaff) deals with this topic of time passing quite frequently," Hastreiter-Lamb said. "Pfaff's idea behind 'Encyclopedia' seems to be a conglomeration of all knowledge and how she is interested in how man and the whole universe are interconnected."
"Del Flusso e Riflusso," which translates to "ebb and tide," is a print that Pfaff designed after being inspired by one of her installations. It is a complex web of line and organic form, with a subtle touch of color and reflects her installation made of wire primarily along with other materials. This piece is one of a set of designs made to supplement her installation and to show a concept of time and movement, Hastreiter-Lamb said.
Another of Pfaff's prints that is being featured in the museum is "The End of the Rain."
"You can see the grid background kind of holding everything together, yet there are brilliant washes of indigo blue seeping all over, and she has these concentric circles which show the drops of rain on the water and how they ripple out from the center," Hastreiter-Lamb said. "She has a great sense of color and is not afraid to go bold with it."
Judy Pfaff's lecture should provide a lot of insight into the well-developed concepts behind her intricately created art. Pfaff will discuss her plans for the future as well as more details about her career and her prints in the museum. She will also provide a slide presentation on her installations and exciting look into her creations and accomplishments in art.
Pfaff will lecture today at 7p.m. at the Center for Creative Photography.


Write a Letter to the Editor