Monday, November 7, 2005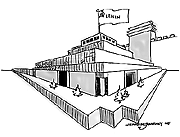 Vladimir Lenin's corpse has occupied a space at the foot the Kremlin wall for 80 years now. The time to bury him has not yet come.
After his death on Jan. 21, 1924, Lenin remained a visible presence within the Soviet Union. Not because of his communist ideology. Not because of his "workers unite" spirit. Not because of the timelessness (or lack thereof) of his theories. But thanks to his body being put on display in Moscow's Red Square.
Within six days of his death, Lenin's successor, Josef Stalin, had Lenin's body embalmed and a tomb built. At 4 p.m. on Jan. 27, 1924, Lenin's mummified corpse was "laid to rest" in the then-newly constructed dais. He remains there today. [Read article]

·
Mailbag
Latest Issue: November 3, 2005
Latest Issue: October 25, 2005
Are you scared yet?
That time of year is approaching once again. The days are no longer endless, and tank tops are being replaced with long sleeves. But along with chilly nights comes one juicy holiday.
Ghosts and goblins are not just a thing of our childhood. In fact, Halloween seems to get better as we reach our adolescence. We are no longer restricted to a two-hour window of trick-or-treating and parents forcing us to bed with the ultimate sugar high. Now, Halloween is yet another reason to party. [Read article]

require('/home/webby/html/papers/98/polls/current.php')?>

showAds('bigbutton')?>







showAds('mediumbutton')?>


showAds('wildlinks')?>