Tuesday, November 8, 2005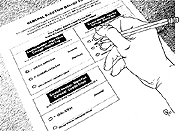 City Council members Kathleen Dunbar and Fred Ronstadt have offered fresh perspectives to Tucson.
Together they have voted to make Tucson a better place to live by hiring more firefighters and police officers and improving our roads. Thanks to their work, Tucson is well on its way to finally meeting the national average of 2.4 police officers per 100,000 residents.
They have voted to encourage the use of solar energy by giving limited fee waivers to homeowners or homebuilders who install solar arrays on their homes. [Read article]

·
Finding privacy in the digital age
·
Editorial: Get well, student senators
·
Mailbag
Latest Issue: November 3, 2005
Latest Issue: November 8, 2005
Tucsonans celebrate life, honor dead during annual All Souls Procession
Thousands of revelers filled the streets of downtown Tucson on Sunday to celebrate the 16th annual All Souls Procession.
The procession is a nonmotorized parade featuring more than 1,000 dancers, drummers, floats and fire dancers who marched downtown from the corner of East University Boulevard and North Fourth Avenue. [Read article]


showAds('bigbutton')?>







showAds('mediumbutton')?>


showAds('wildlinks')?>