Wednesday, September 22, 2004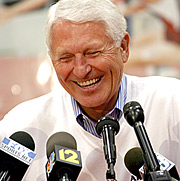 Olson celebrates 70th
Hoops coach enters 22nd season at UA feeling as young as ever
When Lute Olson woke up today to celebrate his 70th birthday, the legendary Arizona men's basketball head coach wasn't at his home in the Tucson foothills.
He was instead on the road yet again, recruiting, and, according to those close to him, he wouldn't have it any other way.
"He'll have a 4 a.m. wake up call, be in two or three states in one day with recruits; but he'll still be able to do that each day," said Olson's daughter Jody Brase, whose son, Matt, is a senior forward playing for Olson's Wildcats. "It's how he looks 20 years younger - or more - than he is." [Read article]




Athlete of the Week: David doubles up in win over NAU
Junior midfielder Nikki David scored two goals in less than a minute in a 4-0 victory over Northern Arizona on Friday. The Manhattan Beach, Calif., native talked with the Wildcat about the weather and getting rescued by Tad Hamilton.
Wildcat: You had one goal in your first two seasons, and this year you already have three. Is there any major difference in your game from then to now?
David: Yeah, I think I have personally improved tremendously. (The coaches) have helped me so much. My teammates have also helped. All of us just coming together. We are learning each other's tendencies, and it helps so much more. [Read article]



Women's golf falls five spots at 'Preview'
If a round of golf were just nine holes, the UA women's golf team would be settling in at the top of the leader board.
Unfortunately for Arizona, 18 holes are required and the back nine hurt the Wildcats as they dropped to a tie for 13th place with Texas in the second round of the Mercedes-Benz of Bend Women's Fall Preview in Bend, Ore.
"The back nine is not treating us too well," Wildcat head coach Greg Allen said. [Read article]




showAds('bigbutton')?>




showAds('mediumbutton')?>

showAds('wildlinks')?>