Monday, December 5, 2005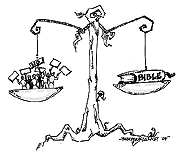 Something's gone wrong with the Christian conservative movement. Something's amiss. And beneath the farcical surface of "Breaking News"-prone politics, an infection is spreading through the ranks, silent, surreptitious and ultimately debilitating for a movement that found its legs and voice in the 30 years since Roe v. Wade.
Christian conservatism has abdicated the respectability of moralism for the self-righteousness of morals - and America is worse off today because of it. [Read article]

·
Confessions of a conservative
·
Mailbag
Latest Issue: December 1, 2005
Latest Issue: November 29, 2005
Venerable Stones play to sold out crowd in Glendale
Rolling Stones fans young and old flocked to the Glendale Arena Sunday night to catch a glimpse of the venerable rock 'n' roll band as they made a stop in the Phoenix area on their A Bigger Bang World Tour.
The concert was to promote the band's newest album, A Bigger Bang, and Glendale was the 40th stop on the tour, which started earlier this year in New York City. The band has crisscrossed the country, stopping in cities like Portland, Ore., Los Angeles, San Francisco and Boston. Even Duke University was a stop on the tour. [Read article]

require('/home/webby/html/papers/98/polls/current.php')?>

showAds('bigbutton')?>







showAds('mediumbutton')?>


showAds('wildlinks')?>