Thursday, January 26, 2006


Cats slam Devils after slow start
Analysis: Defensive pressure helps put away Sun Devils squad
TEMPE - With 2:37 left in the game, the Arizona fans in the rafters started chanting, "This is our house," which again rang true as the Wildcats cruised to a double-digit victory over ASU.
The statement almost has defined the rivalry, with Arizona (13-6, 6-3 Pacific 10 Conference) losing only once in Tempe since 1994-95 against ASU (7-11, 1-8) and defeating the Sun Devils 80-70 last night at Wells Fargo Arena. [Read article]



Poor shooting on part of ASU helps Wildcats fly by
TEMPE - The blackout at Wells Fargo Arena may have lasted just a few minutes, but the ASU Sun Devils shot the ball like the lights were turned off all night, giving the Wildcats the edge in their 80-70 victory last night.
After starting out red hot and jumping out to a 7-0 lead, the Sun Devils (7-11, 1-8 Pacific 10 Conference) made just one field goal in the last 9:51 of the first half.
Defense was the focus of the Arizona men's basketball team prior to the game, and aside from giving up too many free throw opportunities, the Wildcats (13-6, 6-3) accomplished their goal, holding ASU to 34.5 percent from the field, including a measly 24.1 percent in the first half. [Read article]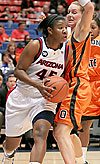 Arizona vs. Washington: Women look to deliver in Seattle
When the Arizona women's basketball team heads into Seattle to play the Huskies tonight at 7, it will face a team riding an emotional roller coaster, a ride the Wildcats are all too familiar with this season.
Ranked second in the Pacific 10 Conference, the Huskies (13-4, 6-2) are an imposing foe for the Wildcats (7-12, 3-6). They are coming off a weekend split on the road against the Oregon schools but will be without the services of redshirt senior guard Kayla Burt. [Read article]




Far from home: Gresdal makes sacrifices for her craft
Swimmer moves from Canada to compete for UA
You could say that Jenna Gresdal is an artist of sorts.
She has been making sacrifices for her craft since she was 14 years old, including moving away from her family - with whom she is very close - in order to better her art. Since then, she has been painting her destiny as one of the top swimmers in the Arizona program.
Gresdal, a senior, earned six first-team All-American honors at the NCAA Championships last season and has been a contributor to the team since her career as a Wildcat began. [Read article]




Track season preview: Fresh faces in track and field
With exciting new faces and returning starters ready to compete, Arizona track and field head coach Fred Harvey has a lot to be excited about this season.
Harvey said he has high expectations for the year after having seven athletes earn NCAA indoor provisional qualifying marks at the Modrall Sperling Lobo Invitational Saturday.
"We really proved we have potential," Harvey said.
The invitational, which took place in Albuquerque, N.M., was a great way to kick off the season and showcase Arizona's athletic talent, Harvey said. [Read article]



Schwartz on sports: Lopez's rep made good by recruits
When they first arrived at Sancet Stadium, they set out on a mission to return Arizona baseball back to its glory days.
Three years, three postseason berths, a college World Series appearance and millions of dollars in professional signing bonuses later, most of Arizona baseball head coach Andy Lopez's first recruiting class returned to Tucson for Sunday's alumni game.
While these would-be seniors pondered what might have been if they had stayed together one more season, the weekend's festivities allowed them to reflect back on their accomplishments in the midst of the great teams of Arizona's past. [Read article]




showAds('bigbutton')?>







showAds('mediumbutton')?>

showAds('wildlinks')?>