CHRIS CODUTO/Arizona Daily Wildcat

UA men's tennis doubles tandem Colin O'Grady, left, and Roger Matalonga open the fall schedule as the No. 5 pair in the nation.

By Tom Knauer
Arizona Daily Wildcat
Tuesday, September 28, 2004
Print this


O'Grady's yin to Matalonga's yang gives UA deadly one-two punch

In the final two centuries B.C., the Han dynasty of China developed two principles to help achieve a cohesive central government. They were meant to divide all facets of society into two opposing, but balanced, categories - yin and yang.

The main idea: divide and conquer the opposition.

When speaking of Arizona's top men's doubles team, now in its third year as the same duo, tennis head coach Bill Wright can't help but notice the comparison.

"They are a yin and a yang," Wright says. "Colin's very versatile and Roger's very solid. It's a very nice balance."

Ranked fifth in the nation by the Intercollegiate Tennis Association, senior Colin O'Grady and junior Roger Matalonga enter the 2004-2005 tennis season with one of the best one-two punches this side of Shanghai. Buoyed by second-round finishes in both the Pacific 10 Conference and NCAA Doubles Championships in May, the two have their sights set on an even better finish this spring - especially once its rivals get hot.

"We played three of the top four teams that are ranked ahead of us. We lost all three of them," O'Grady says with a chuckle, about the pair's matches with Stanford, UCLA and Florida last year. "But we could have beat them. There were all points in the match when we could have beaten them. We definitely feel we can beat them now. We just got to come together."

The two men form a strange pair. The gangly Colin, hailing from Tempe, is all smiles and eternally affable. The Spanish-born Roger, on the other hand, is more upright and business-like. Together, they finished the spring season with an 18-11 record and a No. 22 national ranking. Late-season losses to the Cardinal and Gators in straight sets motivated the pair to identify their differences and find a way to meld them together.

So far, so good.

"We work well together," O'Grady says. "Roger's kind of got the speed, my serve's a little bit better. His volleys are a little bit better, our returns are about average.

"A lot of the matches we lost was because we got down - mainly me, got down on myself," O'Grady adds. "I need to work on that on a little bit more and realize we can beat any team now."

Such a positive attitude will go well toward attaining what few goals the pair didn't realize last year. Both O'Grady and Matalonga finished the season ranked in the top 100 in singles, and Matalonga joined Paul Warkentin as a 20-game winner.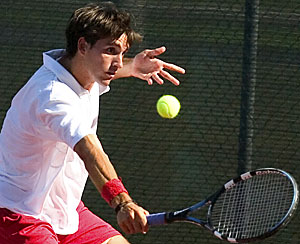 WILL SEBERGER/Arizona Daily Wildcat
Arizona senior tennis player Roger Matalonga hits a backhand return during a match last spring at Robson Tennis Center.
Fighting an old foe
Their exits at the NCAA and Pac-10 tournaments left a decided vacancy in Colin's and Roger's seasons.
"We fell one round short of being All-Americans," O'Grady says, smiling. "I think we both really wanted to get that. More than anything, we'd like to do that (this) year and get quite a bit farther, if we can. Unfortunately, we came up against the team that won it in the NCAAs."
That team would be Stanford, the near-perennial NCAA doubles champions. Stanford's All-American tandem of senior Sam Warburg and junior K.C. Corkery won the school's 14th doubles title, putting it in third place all-time behind USC (20) and Harvard (17).
Ask Wright, though, and it should have been Arizona taking the title.
"(Roger and Colin) had set point," he says. "If they had won that point, they would have won the match. They did that last year, and they're going to be much better this year."
A few important steps still stand in the way. First is a rematch at Stanford Feb. 11, followed by a home date in Tucson April 2. In between, the Wildcats take on No. 3 UCLA March 12 at the Dobson Tennis Center, and then in Los Angeles on March 25.
In the meantime, Matalonga and O'Grady expect to keep on working.
"If we work on these little things, for sure we can beat these guys and get more wins and have a better season," says Roger, who cites his serve as a current weakness. "If you work on all these things in the off-season but then go flat and aren't mentally prepared for these matches, you're not going to do it."
Wright says the pair needs to improve on maintaining their focus, a problem that kept them from reaching greater heights in the past.
"They have streaks where they're incredibly good, and they have those where they lose a little intensity," he says. "It's just a matter of holding serve."
Nevertheless, the hype surrounding the two continues to influence a team that lost three seniors over the summer and welcomes six newcomers.
"They're bringing us a lot of leadership in the fact that they're ranked five in the country," Wright says. "When we start a match, and we have a No. 1 doubles team that's going to win, and all we got to do is win one of the other doubles matches, then we got a point.
"You say, 'That's only one point out of seven,' but it gives us a tremendous lift to know that they're this good and can win matches against anybody."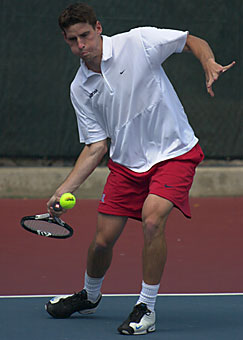 WILL SEBERGER/Arizona Daily Wildcat
Wildcat men's tennis player Colin O'Grady hits a forehand shot last season at Robson Tennis Center.
Link to the past
Matalonga and O'Grady, showing that they're not completely anti-Cardinal, profess admiration for Bob and Mike Bryan. The twins are arguably Stanford's greatest men's doubles team, having won NCAA titles in 1997 and 1998.
"They both played in college and were very successful in singles and doubles," Roger says. "They got along really well, moved very well, returned very well, and they get very excited playing doubles. They're a good example for us."
"They're the best right now (professionally), and they were a Pac-10 team at one point," Colin adds. "If there's anyone you're going to model yourself after, it probably would be them."
Wright, meanwhile, doesn't care much for history.
"There's really nobody comparable (to Matalonga and O'Grady) that we've had here or that I've seen in the Pac-10 for a long time," he says. "That doesn't mean that they're the best team, but they balance each other."
Where then, Coach, will these two opposites end up in June?
"One. No. 1."


Write a Letter to the Editor