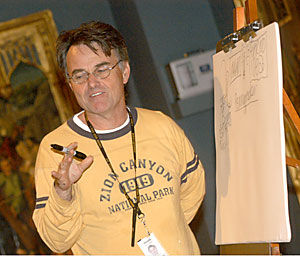 MICHAEL STRICKLER/Arizona Daily Wildcat

Political Cartoonist of the Arizona Daily Star Bill Fitzsimmons spoke to a small crowd at the UA Museum of Art yesterday in his usual energetic and excited style.

By Zach Colick
Arizona Daily Wildcat
Friday, October 22, 2004
Print this


Political cartoonist and satirist Bill Fitzsimmons of the Arizona Daily Star said political cartooning is merely a simplified concept, conveyed on a two-dimensional scale.

The irreverent and energetic 1977 UA alumnus spoke to a crowd of about 40 people yesterday at the UA Museum of Art about the free expression of ideas through political satire, reinforcing a cartoonist's duty is to bring issues to light through humor.

Fitzsimmons, a finalist for the 1988 Pulitzer Prize , said cartoons reflect a certain bias and prejudice and said his set of liberal values is reflected in his cartooning.

Cartoonists want to offend people, he said, and they evaluate their success on the amount of hate mail and phone calls they receive.

Fitzsimmons, who signed his cartoons 'Fitz' when he worked at the Arizona Daily Wildcat in the mid 1970s, told the audience there is no reason to fear political figures or abstract ideas.

"Why do we fear ideas?" Fitzsimmons asked the audience. "Cartoons are simply ideas that rely on gag humor."

The audience got a good laugh when Fitzsimmons continued his rant on censorship and drew the heads of President Bush, John Kerry and Dick Cheney on the bodies of animals.

He said similar works caused controversy during the presidencies of George Washington and Thomas Jefferson when newspapers were first being published in the United States.

Danielle Rideau, a journalism junior, said she liked when Fitzsimmons spoke about current and older newspaper satirists and how they're work thrives on the viewing public.

"His talk was very insightful and funny," Rideau said.

Raymond Suarez, a journalism junior, said he enjoyed listening to Fitzsimmons' opinions on politics and his political satirizing.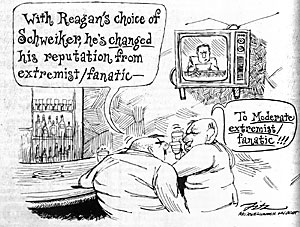 BILL FITZSIMMONS/Arizona Daily Wildcat
Bill Fitzsimmons, a former Arizona Daily Wildcat cartoonist, and now with the Arizona Daily Star, comments on the political climate of the mid-seventies. The cartoon originally ran on Aug. 5, 1976 in the Wildcat.
Suarez said the United States needs more political satirists.
Fitzsimmons said satirists should make a daily "tear in the cosmos" by breaking down barriers and causing controversy with their cartoons.
He said this happens less frequently as newspapers are becoming more corporate and less willing to deal with satirists' shenanigans.
"We're a luxury item, but we're very easy to replace," Fitzsimmons said.
Fitzsimmons said he has an independent voice and gets to publish his own cartoons without the Arizona Daily Star editors telling him what to do.
"The Star is supportive of my perspective," he said.
Fitzsimmons said he considers his satirical work as fun to do, not a job.
"It only becomes a job when the news is slow and there's nothing to comment on," Fitzsimmons said.
He said he hasn't received as much hate mail as he is getting this year about his cartoons on the presidential nominees since former Gov. Evan Mecham, R, was in office.
Fitzsimmons said Mecham, who was impeached in 1988, was an easy target for political satirists because he didn't support Dr. Martin Luther King Jr. Day.
Fitzsimmons said he cheered President Bush and John Kerry during the presidential debates for doing his job for him.
He said there was a lot of mudslinging between the candidates, making his job easier because he didn't have to come up with his own material.
Journalism professor Susan Knight, who was a classmate and co-worker with Fitzsimmons, said she's been a fan of his work for a long time.
Knight said Fitzsimmons has a human whoopee cushion affect on people because she said she would sometimes become a little embarrassed by her laughter while working with him or seeing him speak.
"He's an equal opportunity offender and pokes fun of anything and everything," Knight said.
"Being a satirist is such satisfying work and it's great to know my work has made an impression on someone," Fitzsimmons said. "I'm a propagandist. I twist, I smear and I'm unfair."
Fitzsimmons said opponents of political cartoons claim they're bad for the public morale, but he said he thinks it's just another form of free speech.
"If you could sue satirists like 'SNL,' 'Mad TV' or 'The Daily Show' for causing emotional distress, the costs for tarnishing that humor would be irreparable," Fitzsimmons said.


Write a Letter to the Editor