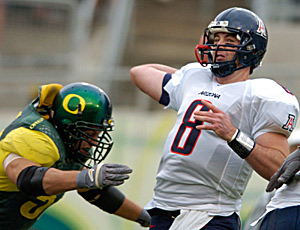 CHRIS CODUTO/Arizona Daily Wildcat

UA redshirt freshman quarterback Richard Kovalcheck, named the starter for Arizona's matchup with Cal tomorrow at Arizona Stadium, attempts a pass in his first action of the season last week against Oregon.

By Charles Renning
Arizona Daily Wildcat
Friday, October 22, 2004
Print this


Redshirt freshman quarterback thrust to forefront against No. 7 Golden Bears

UA quarterback Richard Kovalcheck's parents hadn't missed an Arizona football game all year.

Dick and Ella Kovalcheck made the weekly trips to Tucson from San Diego the first four weeks of the season and traveled to UCLA for the Wildcats' first road game against the Bruins.

The couple had to stay home, however, and take care of their business, the Pennant Tavern, when Arizona went to Eugene, Ore., and consequently missed their son's first collegiate action and first collegiate touchdown pass.

Richard said his parents were constantly checking the Internet for updates on the game, but were bummed that they weren't there to see it firsthand.
Arizona Wildcats

vs.

#7 California Golden Bears
Tomorrow
4 p.m.
Radio: 1290 AM
---
Arizona Stadium
The good news for the Kovalchecks: They'll get another opportunity to see their son play.
It only seems appropriate that Richard will start his first collegiate game Saturday at 4 p.m. as part of Family Weekend, when the Wildcats play No. 7 California at Arizona Stadium. Head coach Mike Stoops announced earlier in the week that he'd start the red-shirt freshman over incumbent starter Kris Heavner, who has started the last 14 games for the Wildcats.
This bump to first string is something Richard said he's been looking forward to for the last year and a half.
"I was being real patient, just trying to keep my head up, keep working hard, waiting for things to happen," Kovalcheck said. "It's been tough. I've just been working and working, and I think that everything that's happened has just made me better as a person, better as a leader. I think that all the hard work that I put in is starting to show."
Kovalcheck came to Arizona last season as one of the most sought-after high school quarterback recruits in the nation, with national powers like Tennessee showing interest. Several high school recruiting services, such as rivals.com and theinsiders.com, had him rated as a top-100 player and top-15 quarterback coming out of St. Augustine High School in San Diego.
In his senior season, Kovalcheck threw for 2,600 yards and 19 touchdowns, leading his school to the CIF San Diego Section championship game, and concluded his high school career with 7,000 passing yards and 70 touchdowns.
But he was forced to redshirt last season because of the slew of quarterbacks on the Wildcats' roster.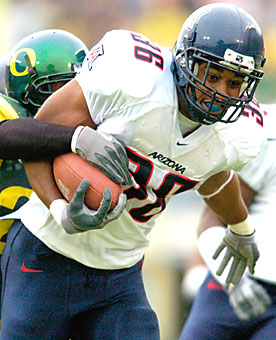 CHRIS CODUTO/Arizona Daily Wildcat
UA running back Gilbert Harris drags an Oregon defender for extra yardage during the Ducks' 28-14 victory over the Wildcats last week in Eugene, Ore.
Kovalcheck found himself behind Heavner and sophomore Ryan O'Hara, battling junior Nic Costa for the number three spot. When O'Hara left school in September and Costa quit the team last week, Kovalcheck was thrown into the backup role, only to find himself starting against the No. 7 team in the nation.
Even though this might seem like a lot of pressure for a first-time starter, Kovalcheck said he has already experienced what
big-time college football is all about.
"It's no pressure on me. Shoot, we had one week of practice where Kris was hurt and I took all the (first team snaps) for two of those days and it felt so good," Kovalcheck said. "I just feel like when I'm looked at as (first string), it feels like I've taken a long vacation and now I'm back home."
In the Wildcats' 28-14 loss to Oregon last week, Kovalcheck was put into the game during the fourth quarter with Arizona trailing 28-0, backed up on its own five-yard line, and the Autzen Stadium crowd getting as loud as it had been all day.
"I was asking Mike (Canales, UA offensive coordinator)," Stoops said. "We said fourth quarter, I didn't know on his own goalline. I was kind of surprised. I said, 'Mike, is this a good situation to put him in?'"
After his second pass it seemed like it might not have been.
Kovalcheck tossed an interception after throwing an incomplete pass on his first throw, but he responded by leading the Wildcats to two fourth quarter touchdowns, including a 21-yard touchdown pass to junior tight end Brad Wood.
"I like his confidence," Stoops said. "The situation is never going to intimidate him."
Senior receiver Ricky Williams had similar praise for the signal caller.
He said Kovalcheck has shown confidence ever since arriving in Tucson, but it is not only on the freshman to get the Wildcats in the end zone this weekend, but rather the rest of the offense as well.
"(The quarterback change) is only a spark if we make plays," Williams said.
He added that both Kovalcheck and Heavner are similar in their ability to run the Arizona offense.
"They are both capable. They both have the same capabilities," he said of the quarterback pair, but mentioned the only real difference between the two was the vocal side.
He said Heavner is more outspoken, while Kovalcheck leads more by example.
Canales said Kovalcheck has spent a lot of time watching film and preparing for every opponent. He said hard work like that and his work on the field have put him in a situation to lead the Arizona offense.
"It's a great situation," Canales said. "He deserves a chance."


Write a Letter to the Editor