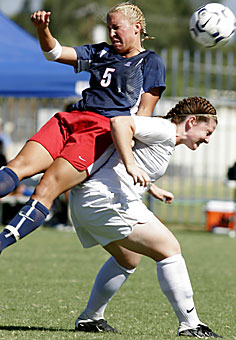 CLAIRE C. LAURENCE/Arizona Daily Wildcat

UA junior midfielder Mallory Miller heads the ball during the Wildcats victor over Colorado College this season at Murphey Stadium.

By Amanda Branam
Arizona Daily Wildcat
Friday, October 22, 2004
Print this


The last stop of a three-game road trip ends in Tempe today as the Wildcat soccer team faces ASU at 7 p.m.

When the Sun Devils and Wildcats last met on Oct. 18, 2003, the UA was 0-2 in the Pacific 10 Conference.

Arizona played ASU to a 1-1 overtime tie at home, which was the UA's best result against their in-state rival after losing its first eight tries. ASU came in ranked at No. 24 and finished second in the Pac-10 race, while the UA finished unranked and tied for ninth in the conference.

Pac-10 Soccer
Arizona Wildcats

vs.

Arizona State Sun Devils
Today
7 p.m.
---
Tempe
How times certainly have changed.
This time, the Wildcats will be the ranked team at No. 16 in this week's poll. Arizona (12-3, 3-1-0 Pac-10) is looking down from the top of the Pac-10 standings with UCLA, while ASU (6-7-1, 2-1-1) follows close behind in third.
"We're not going to base ourselves off what they do," said defender and Scottsdale native Claire Bodiya about the team's preparation for this rivalry matchup. "It's just going to be a battle the entire game. If this were against another team, maybe we'd know how they play, but just because of the rivalry, it's going to be a battle. Both teams are going to do whatever they can to score goals or defend."
ASU has played a difficult non-conference schedule, facing No. 5 Florida State, No. 2 Notre Dame and No. 24 Pepperdine, all losses. They lost 2-1 at Pepperdine, while the Wildcats lost 1-0 to Pepperdine at home. Both teams have also faced Brigham Young this season, and both won by a one-goal margin. ASU won 3-2 in Provo, Utah, on Sept. 4, and the UA won 1-0 in Provo on Sept. 23.
Both teams faced Stanford and California last weekend, each coming out with a split. Arizona defeated No. 10 Stanford, 1-0, but fell to No. 14 Cal 1-0, while ASU defeated Cal 1-0 but lost 2-1 to Stanford.
On Oct. 8 and 10, the Wildcats and Sun Devils faced the Washington schools. The UA knocked off Washington, then the No. 4 team in the country, 3-1, only to defeat Washington State by the same score. ASU tied the Huskies 1-1, and beat Washington State 2-1 in overtime.
While freshman defender Shaylyn Scott, also a Phoenix-area native, said she is looking forward to playing in front of family and friends today, she admits to some other emotions too.
"It's going to be really nerve-wracking," Scott said. "Our old coach is going to be there; he hasn't seen us play in awhile."
Rivalry aside, freshman defender Kaity Heath - who is from Gilbert and has an older sister at ASU - looks at this game with a practical perspective.
"We're ranked or tied for number one in the Pac-10," Heath said, "and we just need to keep that."


Write a Letter to the Editor