Monday, October 25, 2004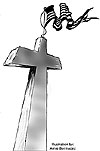 Why I hate 'God Bless America'
If there is one thing in the world of American politics that is an absolute, it is the way that a politician ends a speech. It's pretty much political dogmatic law to finish everything you say with the same three words: "God bless America."
And I hate every time someone says it.
Why do I hate this happy little adage? It's not because there's anything wrong with praying for good things to come to our country. The problem is that it's a simple manipulation, using God for personal political benefit. [Read article]



Editor's Note: The Elimination of "Parry Monster and Z-Train"
On Monday and Tuesday last week, the Wildcat published two panels of the comic "Parry Monster and Z-Train" that garnered significant attention from the campus community. The first depicted a woman waking up on a roof with the caption, "She hated getting Roofied," and the second showed a man holding up a sleeping woman at a football game with the caption, "It wasn't the one-night stand he was hoping for, but he still thought that things with the narcoleptic would be awkward in the morning." [Read article]



On the Edge
The best in last week's editorials from college campuses around the nation
Polls matter less than media think
The preliminary polls are in, and President Bush is well on his way to keeping his spot in the White House.
Well, kind of.
A CNN/USA Today/Gallup poll, taken after the final debate on Oct. 13 and released Sunday, shows Americans think Democratic candidate John Kerry did better in the debates than Bush did, but Bush is ahead in the popularity contest - he has 52 percent to Kerry's 44 percent. [Read article]



Mailbag
'Studied' Coulter should be heard
Ann Coulter is one of a kind. She is like a voice in the wilderness to be listened to because there are few voices like hers to be heard these days. She is studied, learned and has been through all the college courses most of us have not even considered or attempted. She has the background, the knowledge, the experience, the general know-how to speak her mind. Folks who seem to be against her way of thinking need to back off just a bit, and re-listen to what she says, because most of her words are right on the truth if one will just listen - and reason. Just be open to the truth - lay waste to some things that may have been wrongly influencing your thinking in the past. Just be open-minded and give change a chance. [Read article]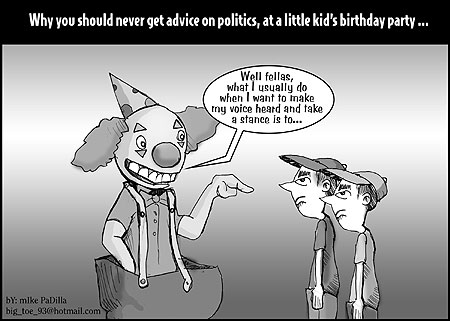 showAds('bigbutton')?>






showAds('mediumbutton')?>

showAds('wildlinks')?>