Friday, October 29, 2004


Halloween a time for fun and death
Each year on Oct. 31, everyone across this land of hot dogs and freedom fries takes time out of their busy schedule to celebrate Juliette Gordon Lowe's birthday. That's right, she's the woman who started the awesome Girl Scouts of America organization. It also just so happens that Halloween falls on the exact same date, which people love to celebrate too.
Halloween has been a time-honored tradition by kids, teens, and adults of all ages. The candy, costumes, and parties bring more fun than a barrel of monkeys with Pop Rocks and Pepsi. [Read article]



Guest commentary - Greek mythology: dispelling myths about fraternities, sororities
As a member of the greek community for four years, I have become accustomed to illogical and inaccurate attacks by independents. There is neither the space nor the time to refute all of the inimical categorizations that are made by independents about members of the greek community, but the following are a few.
Greeks are a financial burden on the university. Greeks receive no financial support from the university. The greek community is an entirely self-sustaining entity. The salaries of the two greek life coordinators employed in the Center for Student Involvement and Leadership are paid for wholly by dues collected from university-recognized greek organizations; while these coordinators also provide services for other campus organizations. [Read article]



View Points
Question: Now that the Alumni Plaza is almost finished, do you think it was worth the wait and detour hassle?
"I just wished they'd hurried the construction along. Especially having to walk all around the Admin building."
"I think it was totally worth it. I think it was worth the wait. I like it. It wasn't really a big deal. I don't see what was wrong with it. It wasn't getting in the way of anything. I mean, all you had to do was go around." [Read article]



Mailbag
Flores doesn't deserve students' compassion
Two years ago, my aunt Cheryl McGaffic was killed by Robert Flores in her classroom. Under no circumstances whatsoever should that murderer be honored with the same degree of respect and reverence that my aunt, Barbara Monroe and Robin Rogers are shown. It would be an absolute slap in the face to the three professors, their students and their families. It is like saying the names of the 19 terrorists should be read each year on Sept. 11 along with those they killed. Flores completely disrupted the lives of countless people without batting an eye. That certainly does not deserve any sort of compassion or remembrance. He was not and never should be viewed as the victim. [Read article]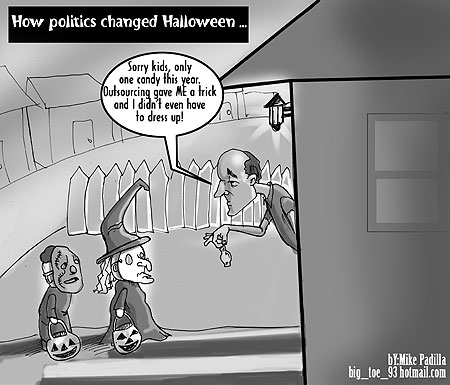 showAds('bigbutton')?>






showAds('mediumbutton')?>

showAds('wildlinks')?>