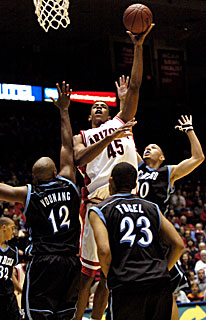 CHRIS CODUTO/Arizona Daily Wildcat

UA senior center Channing Frye is surrounded by San Diego defenders during the Wildcats' 80-69victory over the visiting Toreros last night in NIT opening round action in McKale Center.

By Michael Schwartz
Arizona Daily Wildcat
Wednesday, November 17, 2004
Print this


Early lead, early defense carry UA to home victory

The No.11 UA men's basketball team built a big, early lead on the heels of its defense and cruised to a 80-69 victory over San Diego in the first round of the preseason National Invitational Tournament last night in McKale Center.

With the win, Arizona advances to the second round and to host Wright State in McKale tomorrow at 7 p.m.

The UA defense shut out the Toreros for 6:49 of the first half and allowed just two points over an 8:50 span of its season opener. Arizona went on a 16-0 spurt over that span to take a 30-10 lead with 4:58 left in the half. San Diego fought back, but never seriously threatened the Arizona lead.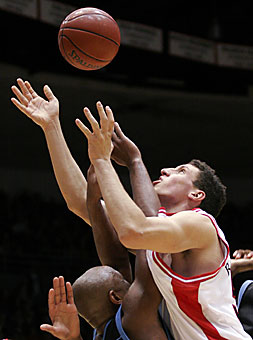 SAUL LOEB/Arizona Daily Wildcat
UA forward Ivan Radenovic releases a shot attempt in traffic during the Wildcats' 11-point victory over San Diego last night in the first round of the preseason NIT in McKale Center.
"We did not do a good job of really closing them out," said head coach Lute Olson. "We just need to have that killer instinct - that when you get somebody down 20 you need to be going for 30 and we really haven't done that in either of the last two games that we've played.
"It's like you get the lead and then you rest a little bit and that obviously is not the case, but when we needed to get the thing back in control we did a good job and hit the shots we needed to hit," he added.
Senior center Channing Frye, who only scored six points but grabbed 10 rebounds and dished out seven assists, said Arizona needs to follow Isiah Thomas' theory in terms of closing teams out.
"Once we get someone down, we need to step on their neck," he said. "When we get them down we need to keep them down. I think we have it, we just need to establish it."
After holding San Diego to 23 points on 35.5 percent shooting in the first half, the Toreros doubled their output by putting up 46 points in the second half on sizzling 50 percent shooting.
"I think the first half was excellent and the second half was disgusting," said senior guard Salim Stoudamire. "We didn't pay attention to details and we weren't doing the things like denying passes. I want to win and I want to win by a lot. I though tonight we should have won by 40 and I thought we were going to in the first half, but we got lackadaisical."
Three Arizona players reached the 20-point plateau in the game, led by Stoudamire's 23 points. Sophomore Mustafa Shakur filled up the box score once again with 20 points, a career-high-tying eight rebounds, seven assists and three steals. Fellow sophomore Ivan Radenovic recorded his first career double-double with 20 points and 10 boards.
Both Arizona guards said they were impressed with the development of Radenovic, whom Olson said will continue to start even when junior forward Isaiah Fox returns to the team for the next game.
"His confidence is getting back up with his jump shot and making moves off the dribble," Shakur said. "He's starting to understand the college game compared to overseas right now and I think he's going along very well."
"He's a totally different player out there," Stoudamire said. "He looks relaxed and he's doing the things we know he can do."
San Diego center Brice Vounang outplayed Frye by scoring 28 points on an array of jumpers and grabbing 11 rebounds. Forward Brandon Gay added 17 points and eight boards, but Vounang mainly held the responsibility of bringing the Toreros back.
"Their big guy inside, I'm not sure we're going to play anyone tougher than he is," Olson said. "The guy's got probably the softest touch off the glass as I've seen in a long time. He was a load, and that's not a surprise because he was the newcomer of the year in their league."
Despite talk of playing a deeper rotation, Olson once again stuck with his starters most of the game. All five starters played at least 32 minutes and junior Chris Rodgers was the only reserve to spend more than five minutes off the bench.
"The young guys, with the amount of help that we had to have from the backside with the post, we were concerned about their ability to communicate and keep that off side help," Olson said. "The veterans still have a big lead on the younger guys, although I thought Jawann McClellan did a nice job for us. He probably should have got more time. He's been making good progress."
The Wildcats now turn their attention to Wright State, after the Raiders upset Tulsa 72-66 in overtime.
"It was the first game and we got those jitters out and I think we'll be strong on Thursday," Stoudamire said.


Write a Letter to the Editor