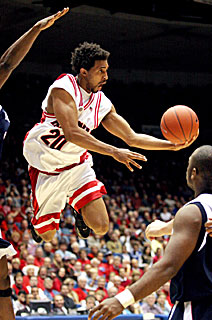 JACOB KONST/Arizona Daily Wildcat

UA senior guard Salim Stoudamire dishes a pass to a teammate during Arizona's win over Richmond last month in McKale Center. Stoudamire and the No. 17 Wildcats take the court again tonight against USC at home after falling Saturday to Stanford. The loss was Arizona's first in its last 10 games.

By Roman Veytsman
Arizona Daily Wildcat
Thursday, January 13, 2005
Print this


After stumbling against unranked Stanford in their last game, the No.17 Arizona men's basketball team looks to get its engine back in gear against Southern California at 8:30 p.m. in McKale Center.

The Wildcats (12-3, 2-1 Pac-10) will play six of their next eight games at McKale, and are trying to use the time at home to their advantage.

"The home court is a big advantage, but you better play well enough to take care of your home court," said head coach Lute Olson.

USC (7-8, 0-4) comes in winless in Pacific 10 Conference play. Switching coaches mid-season hasn't done a whole lot for the Trojans, and a botched attempt to sign former Utah coach Rick Majerus has put the program in a state of limbo. Currently, interim coach Jim Saia is at the helm after Henry Bibby was fired early in the season, and according to Arizona assistant coach Josh Pastner, the USC players have played hard for him.

One thing the Trojans do have going for them is athleticism, as they are one of the most athletic teams in the Pac-10, if not the country.

Pac-10 Men's Hoops
Arizona Wildcats

vs.

USC Trojans
Today, 8:30 p.m.
TV: Fox Sports Net Arizona
Radio: KCUB 1290 AM

McKale Center
"USC is one of the most athletic teams in the league," Olson said. "They are one of the most experienced when you talk about (Jeff) McMillan, (Rory) O'Neil, and the guy that really killed us, (Gregg) Guenther," Olson said.
Guenther leads USC in rebounding at 6.4 boards per game and is the type of player that may pose problems for 6-foot-11 Arizona center Channing Frye.
Lodrick Stewart lead the Trojans in scoring, averaging 14.7 points per game, but no longer has his twin brother, Rodrick, playing alongside him.
Rodrick Stewart transferred to Kansas, leaving the Trojans with only one set of twins in Errick and Derrick Craven.
Errick, who led the Pac-10 in steals last season has missed the last five games with a right ankle sprain, while Derrick is averaging 4.5 points per game.
The Trojans have received help from two freshmen, Gabriel Pruitt and Nick Young, who are second and fourth on the team in scoring, respectively.
Even though USC doesn't look very good on paper, Arizona will not take them lightly.
"Practice has been great," Olson said. "The guys have worked hard. They are really focused on doing things we need to do better, starting with containing penetrators. The attitude is great. They are anxious to get back out here again."
For the Wildcats, defense has been a priority this season, and after giving up 58 percent shooting to Stanford, Arizona put an emphasis on stopping penetration in practice.
Offensively, Arizona settled for jumpers instead of taking the ball to the rim, and when they did take it to the rim, they missed some easy shots.
"We just need to do a better job of containing penetration and then when it gets down late, we have to get the ball to the open man," Olson said.
Arizona should find some open men against USC, which is last in the Pac-10 in points allowed per game (73.8).


Write a Letter to the Editor