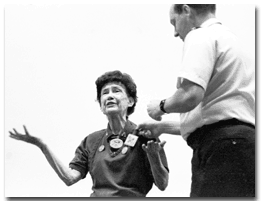 Air Force ROTC gives surprise award to UA employee
Betty Baker had no idea what awaited her as she began her morning work routine at 7 a.m.
In her two decades as a UA dining services employee, Baker, a well-known, 70-year-old "angel," has experienced a few surprises from her loved ones - in 1989, she received the "Outstanding Employee of the Year" award, and in 1999, students, staff and faculty signed a huge card for her after she spent eight weeks in the hospital with double pneumonia and bronchitis.
Yesterday was different, though.
Baker was revered like a general as she ambled down the aisle of the Social Sciences auditorium, slightly bent in her deer-like posture. Nearly 300 Air Force Reserve Officer Training Corps members in the room, who nominated her to receive one of the organization's highest honors, cheered and applauded.
Baker received the Arizona Attitude award - the first time the award was given to someone outside the corps - in honor of her cheery, positive attitude.
UA students design 'classroom' for South Tucson elementary school

Outdoor learning facility unveiled after 2 years of planning

Members of the local community gathered at a South Tucson elementary school yesterday to dedicate an outdoor classroom, which represented the culmination of two years of design and planning by UA graduate students.

New RB coach Kennedy: 'This is the best job I've ever had'

Running backs coach Bobby Kennedy talks about the big question he faces in the fall - who is going to start at running back?

Kennedy, 34, was hired by Mackovic shortly after he took over for Tomey in early December. Kennedy spent the past six seasons as running backs coach at Wake Forest.

Bulldozing the soul of UA campus

Construction is not just bulldozing away our Mall - it is seizing the good ol' student union to boot.

While the Integrated Learning Center (ILC) is a project with valuable academic goals in mind, it is difficult to understand why UA students are being forced to sacrifice their student union.

As phase two of student union construction kicks off, UA students are looking around wondering where their beautiful campus has gone.

Dancing with Dorfman

UA dancers participates in nationally recognized Dorfman proformance

When a major act comes to Centennial Hall, the public runs to purchase tickets to the performance.

However, with the arrival of the dance company David Dorfman Dance in Tucson, the public has instead run to become a part of that performance.

"Our image is (to work with) the folks who really support the university, make it run - do the day in, day out stuff," said David Dorfman, creator of the company.
Fast facts: Wednesday February 21, 2001
A typical American eats 28 pigs in his/her lifetime.
A-1 Steak Sauce contains both orange peels and raisins.
A hard-boiled egg will spin. An uncooked or soft-boiled egg will not.
Honey is used as a center for golf balls and in antifreeze mixtures.