UA mourns 'first lady of Wildcat basketball' Bobbi Olson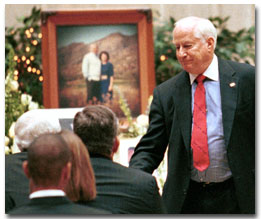 Coach Lute's wife dies after 2 1/2 -year struggle with ovarian cancer, touched those who
There was only one Bobbi Olson.
UA athletic director Jim Livengood might prefer to say, though, that there is only one Bobbi.
At a memorial service Sunday celebrating Bobbi Olson's life, Livengood made a point not to refer to the woman's heart and love in the past tense, because to him, the departure of her body in no way equates the loss of her spirit.
Emotionally drained Edgerson asked to take week off
Something is wrong in the world of Gene Edgerson and he just can't seem to figure it out why.
The senior forward returned for his final season as a Wildcat after redshirting 1999-2000 with hopes of being a main contributor to a national championship squad, but now has been asked to spend a week away from Arizona basketball for some "self-evaluation."
Acting UA head basketball coach Jim Rosborough said yesterday that he has asked Edgerson to take the rest of the week off - including this weekend's upcoming road trip to Washington and Washington State - so that the team captain could re-evaluate his role on the squad.
Student routes altered by construction explosion

Pedestrians, bicyclists face detours near Old Main, Main

Walking and biking around campus will be a bit more challenging during the next month, as construction crews continue regrading pavement on the south side of the Administration building and installing chilled water pipes near the Memorial Student Union.

Until Jan. 31, bicyclists will need to avoid a portion of the bike path between the U of A Bookstore and Old Main, as well as a portion of the bike path on the west side of the Integrated Learning Center, said Gilbert Davidson, University of Arizona assistant project manager for the new student union and bookstore.

Bobbi Olson's death a motivational force for Wildcats

With the death of Bobbi Olson last week, not only did UA basketball coach Lute Olson lose his wife, but the Wildcat players lost a loving mother.

At Bobbi Olson's memorial service this past Sunday at McKale Center, junior forward Richard Jefferson said that Mrs. Olson was just as much a part of Wildcat basketball as her husband was, which is why many players have struggled emotionally.

Chin up, construction isn't so bad

So you found us.

For UA students who pick up their Arizona Daily Wildcat at the Memorial Student Union stands everyday, getting a copy at that location has become a somewhat difficult task. You probably found yourself trudging around fences and taking various "detours" before making it to the Union.

In case some of you have forgotten about our gargantuan campus reconstruction projects, courtesy of Peter Likins Brainchildren, Inc., the enormous barricade of fences currently that locks in our makeshift Student Union won't be going away any time soon.

Exhibiting artist utilizes immigrant roots in paintings

UA alum Cristina C‡rdenas borrows the images of her Mexican cultural heritage in her

A Mexican-American immigrant originally from Guadalajara, Mexico, UA alumna Cristina C‡rdenas' artwork resurrects her own cultural history through images borrowed from her past.

Eleven of C‡rdenas' paintings, as well as five of her black-and-white self-portraits, will be on display at the Joseph Gross Gallery in the University of Arizona Fine Arts Complex. The exhibit, "a flor de piel," will open today.
Quotable: Wednesday January 10, 2001
"A hundred years from now, they'll look back on this in shame," she said.
-Corine Schmitz regarding the federal government not allowing her rare, nearly extinct zebra to breed
On This Day: Wednesday January 10, 2001
In 1901, in the town of Beaumont, Texas, a 100-foot drilling derrick named Spindletop produced a roaring gusher of black crude oil. The oil strike took place at 10:30 a.m., coating the landscape for hundreds of feet around in sticky oil. The first major oil discovery in the United States, the Spindletop gusher marked the beginning of the American oil industry.
In 1979, the last convertible Volkswagen Beetle was produced. The VW "Bug," popular throughout the 1970s and again in 1990s, led to innovations such as sun roofs and convertible tops.