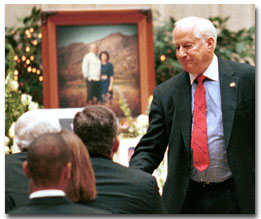 ERIC M. JUKELEVICS
U.S. Rep. Jim Kolbe shakes the hand of UA mens' basketball coach Lute Olson after sharing his memories of Bobbi Olson during memorial services Sunday. "Fortune smiled on all of us who new her," Kolbe said
Arizona Daily Wildcat
Coach Lute's wife dies after 2 1/2 -year struggle with ovarian cancer, touched those who
There was only one Bobbi Olson.
UA athletic director Jim Livengood might prefer to say, though, that there is only one Bobbi.
At a memorial service Sunday celebrating Bobbi Olson's life, Livengood made a point not to refer to the woman's heart and love in the past tense, because to him, the departure of her body in no way equates the loss of her spirit.
"Oh, what a lady," he said. "As long as we never, ever allow our memories to go away, Bobbi Olson will live with us forever."
Bobbi Olson, wife of Arizona men's basketball coach Lute Olson for 47 years, and hostess and mother figure to years of prospective, present and past players, died on Jan. 1 of ovarian cancer. She was 65.
As if often does, Lute Olson's silver-white hair stood out against the shiny hardwood floor of McKale Center on Sunday - but this time the intense, respected coach was not scurrying along the sidelines. He was sitting with family members on the court, listening to Livengood and others remember Bobbi.
Lute Olson did not speak at the service, but thanked those who eulogized his wife - from U.S. Rep. Jim Kolbe, to oncologist Dr. David S. Alberts, to Wildcats junior forward Richard Jefferson - with an embrace, a hearty, sincere pat on the back as they moved along the polished slats of the now-Lute and Bobbi Olson Court.
Family and close associates said good-bye to Bobbi at a private ceremony on Friday, but the public was invited to honor Bobbi at the memorial service at McKale Center the next day - and they did, newborn infants on their mothers' bosom and elderly men assisting each other up the concrete steps, teenagers in Wildcat jerseys and middle-aged women singing hymns along with the Catalina Foothills Church and Arts Express choirs. About 1,500 of the red and blue seats of the arena were filled.
Jefferson spoke at the memorial as a representative of this year's team.
Hesitant and soft-spoken at fist, Jefferson paused several times during his speech before sharing his remembrances of Bobbi Olson.
When Jefferson was struggling as a freshman, even a 1-minute conversation with the coach's wife inspired him to not dwell on his early mistakes - these brief chats changed his life, Jefferson said.
When former forward Luke Recker transferred to the UA in 1999, he had just endured an automobile accident that left friends and family members seriously injured, paralyzed and dead. But Jefferson described Bobbi Olson as compassionate to the young man's troubles.
"Mrs. Olson meant so much to all of us," Jefferson said.
"We come in as boys, we really do. Some of us are here for four, five years, and we leave here as men - and that's because of Coach Olson and Mrs. Olson," he added.
Lute Olson took an indefinite leave of absence to be with his ill wife after her condition took a sharp downturn late last month. Assistant coach Jim Rosborough will lead the team in the meantime.
Bobbi Olson was diagnosed with Stage 3C - a common and advanced form - of ovarian cancer in the summer of 1998 while she and her husband were vacationing in Hungary. Emergency surgery to remove an intestinal blockage revealed a tumor on her ovaries, and she soon underwent chemotherapy treatment.
However, Bobbi was a champion for innovative cancer remedies, and participated in "intraperitoneal treatments," a method of attacking the cancer that allows patients to avoid the painful side effects of intravenous chemotherapy. She supported a bill in the Arizona Legislature that requires HMOs to pay for some experimental cancer treatments, which went into effect the day she died.
Bobbi Olson's body was declared free of cancer in March 1999, but she returned to the hospital on Dec. 9, where she stayed until the first minute of the new year, family and friends around her.
Roberta Russell married Lute Olson one year out of high school on Thanksgiving Day, 1953. The two met as high schoolers in North Dakota and stuck together as Lute rose from coaching at the prep level to leading major universities to Final Four appearances and a national championship.
Bobbi Olson is survived by father John Russell, sons Greg and Steve, daughters Vicki, Jodi and Christi, and 13 grandchildren.
These dear family members were what made the "Mama Bobbi" Livengood would speak of. There was also the guidance of the Teacher Bobbi, and even the spunk of the Flirty Bobbi, who in her final days on a bed in University Medical Center teased Livengood about wanting to steal a kiss.
"The Lord better be prepared - he has just beckoned home a pistol of a lady," he said.
"We love you, sweet lady. As the song says, you are simply the best."