New photos aid hunt for rape suspect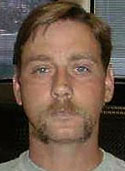 James Allen Selby
March 2002

By James Kelley
Arizona Daily Wildcat
September 13, 2002


The Tucson Police Department unveiled a new photo of serial rape suspect James Allen Selby yesterday, the second in four days.

Thus far, TPD has released three photos of Selby, the latest of which was taken in March. The new photo shows him with a mustache, unlike the two previous ones.

Police would not say how they got the photos.

"All we can say is we obtained them through the investigation," said Sgt. Judy Altieri, Tucson Police Department spokeswoman.

James Allen Selby
Oct. 2001
Selby, 35, was charged with attempted murder, three counts of sexual assault, one count of aggravated assault and one count of kidnapping in connection with four campusöarea assaults beginning last October. Selby was charged on Aug. 16, the day of his last confirmed sighting in Tucson.
Selby's whereabouts are still unknown.
"At this point, we have no reason to believe he is in town or in another town," Altieri said.
Selby is described as 5-foot-9 inches tall, 180 pounds, with brown hair, blue eyes and a tattoo on his upper right arm of a skull with a cowboy hat and bandanna. He is believed to be driving a tan 1985 Chrysler New Yorker and is considered very dangerous.
TPD asked citizens with information on Selby's location to call 911 immediately. Anyone that has information relating to the string of sexual assaults can call the 24-hour Sexual Assault Hotline at 791-4939 or 88-CRIME.