Thursday, April 28, 2005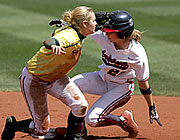 The No. 2 Arizona softball team showed both sides of its Jekyll and Hyde offense at home against ASU over the weekend.
The Wildcats (33-6, 7-4 Pacific 10 Conference) needed five innings and a wild pitch to pull even with the Sun Devils (26-18, 1-11) in Friday night's 3-1 win at Hillenbrand Stadium.
With ASU ahead 1-0, Arizona senior third baseman Jackie Coburn plated junior left fielder Autumn Champion with a single in the bottom of the fifth against re-inserted starter Katie Burkhardt. [Read article]

·
Golfers take third at Pac-10s
·
Commentary: APR must change baseball standards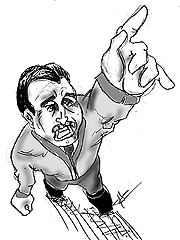 Here in America, it feels like President Bush and his Cabinet cronies get all of their news from Fox. Down in Mexico, it's the other way around: President Fox is watching Bush. Following the lead of the Republican Party's continual overreaching in the last six months, Vicente Fox is doing some overreaching of his own in Mexico City.
President Fox is behind the recent prosecution of Mexico City mayor and 2006 presidential favorite Andrés Manuel López Obrador. Obrador is accused of contempt of court for commissioning a road to be built against a judge's orders; it's a minor crime that is being prosecuted while the murders and disappearances of thousands of Mexicans by previous leaders go unpunished. As a result, Mexico City has found itself in the midst of a political uproar which is causing Obrador's political popularity to skyrocket. [Read article]

·
Guest Commentary: Times did not profile the UA I know
·
Mail bag
Latest Issue: April 28, 2005
'American Dad' joins forces with 'Family Guy'
Before you go to bed tonight, pat yourself on the back for being a college student. Seth MacFarlane, creator and vocal star of "Family Guy" is in your debt ever since Fox resurrected the show this season.
"To me, the biggest audiences are colleges," MacFarlane said. "As far as the show being brought back, it was the adult 18-to-34 audience that did it and that's really the audience that we write for." [Read article]

ˇ
Tucson and Campus Calendar
ˇ
Demetri Martin's all smart 'n' SICK
ˇ
Commentary: Drinking like a scientist
Art
ˇ
Art from ashes Mount Lemmon fires inspire tree sculpture memorial
ˇ
Writer praises Tucson, MOCA and artist
Film
ˇ
Ass-kicking 'Kung Fu Hustle' a treat
ˇ
Kidman kills 'Interpreter's' chances
ˇ
So much for the afterglow
Music
ˇ
The Sights are set on rock success
ˇ
CD Reviews: American Hi-Fi, The High Speed Scene
Literature
ˇ
Black's act nearly as funny in print
Latest Issue: April 26, 2005

Exploring the female orgasm: coming to the point
Her body curls and clenches with tingles of pleasure, a feeling some UA women have yet to understand or experience.
Regardless, if a woman is exploring with the different types of orgasms, masturbating, or learning how to get off without faking it, experts agree being comfortable is essential for achieving an orgasm.
Though some women may feel like a victim of orgasmic dysfunction, or the inability to climax during sex, experts said this diagnosis is rare for young women. Instead of needing medical treatment, college-aged women can usually find orgasmic relief from different methods of arousal and self-discovery. [Read article]


ˇ
Commentary: Men and the orgasmic lie

require('/home/webby/html/papers/98/polls/current.php')?>

showAds('bigbutton')?>






showAds('mediumbutton')?>


Thursday
---
5:30 pm
UATV: Wildcast
6:30 pm
UATV: Daily Dose
7 pm
Young Frankenstein
9:30 pm
Saving Grace
11:30 pm
Rookie of the Year

Show Schedule
Interview Archives

showAds('wildlinks')?>