Regular updates of the Arizona Daily Wildcat have ended for the spring semester. The spring commencement issue will be available in print and online on Wednesday, May 11.


---
Wednesday, May 4, 2005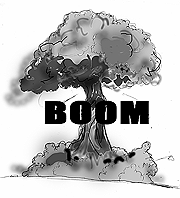 There are more than 180 nations that signed on to the Global Nuclear Non-Proliferation treaty, and only nine of them are nuclear weapons states (India, Pakistan and Israel are nuclear states that aren't signed on to the treaty). The treaty demands that the non-nuclear countries not acquire any weapons, on the condition that weapon holding countries like the United States begin programs of disarmament. Every five years, the member countries meet at the United Nations to review the progress of the treaty. This year, it seems that things are going in the wrong direction. [Read article]

·
Mallrants
·
Mailbag
Latest Issue: May 4, 2005
Media arts seniors show capstone works
If you thought enduring your Uncle Edwin's home movies was a pain in the ass, imagine what his student films must have looked like.
Luckily, several media arts seniors who've spent the past four years discovering what it takes to make a decent film will be showcasing their labors of love next week at The Loft.
"Take 5: A Night of Five Student Short Films" kicks off on Friday, May 13, but don't expect to see any horror films in the lineup. Following are some of the films that will be shown. [Read article]

·
Tucson and Campus Calendar
Campus
·
Juniors 'Dream in Widescreen'
·
Congrats, grads! Meet Mr. Unemployment
·
Senior crafts trash into art
Film
·
'Guide' remains loyal to book's spirit
·
Chris Rock goes 'Long' with Sandler
Music
·
Har Mar drops it like it's hot
·
Creature Feature premieres pre-hardcore sound
·
Ben Lee is awake and dreaming
·
Weezer returns to form
·
Eels depress wonderfully
Literature
·
'Sorrows' finds beauty in tragedy
Latest Issue: April 26, 2005

Exploring the female orgasm: coming to the point
Her body curls and clenches with tingles of pleasure, a feeling some UA women have yet to understand or experience.
Regardless, if a woman is exploring with the different types of orgasms, masturbating, or learning how to get off without faking it, experts agree being comfortable is essential for achieving an orgasm.
Though some women may feel like a victim of orgasmic dysfunction, or the inability to climax during sex, experts said this diagnosis is rare for young women. Instead of needing medical treatment, college-aged women can usually find orgasmic relief from different methods of arousal and self-discovery. [Read article]


·
Commentary: Men and the orgasmic lie

require('/home/webby/html/papers/98/polls/current.php')?>

showAds('bigbutton')?>






showAds('mediumbutton')?>


showAds('wildlinks')?>