Wednesday, June 29, 2005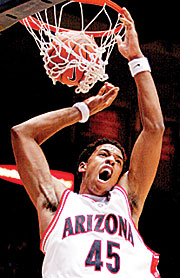 Former UA men's hoops star Channing Frye may not have drawn a cheer from every New York Knicks fan in attendance at last night's NBA Draft, but he did undoubtedly garner the approval of the team's most recognizable.
Film director Spike Lee, famous not only for his contributions to silver screen but also for his courtside hijinks as the unofficial first fan of New York Knicks basketball, stood from his seat and cheered loud after the National Basketball Association Commissioner David Stern's announcement that Frye would wear the Knicks famed blue and orange this upcoming season. [Read article]

·
SPORTS BRIEFS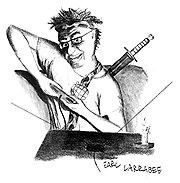 I am training to be an assassin.
Well, that's not exactly true. But according to a recent lawsuit filed against Take-Two Interactive, the creator of Grand Theft Auto, individuals opposed to such a game believe that video games aid in the production of killers.
Last June, 18-year-old Devin Moore gunned down three men (two police officers and a 911 dispatcher) in Fayette, Alabama, in what was later portrayed as a simulation of events mirroring those found in GTA. For those who haven't experienced this particular game, the basic premise involves the player having free reign to do as he or she pleases in a thinly-disguised U.S. city (Miami, Los Angeles, etc.). In order to gain access to more territory, the player must complete certain missions such as drive other characters around or partake in gang warfare. True, it's a violent game that reproduces murder, prostitution, stealing cars, and other not-so-pleasant imagery. Wait, did someone say game? [Read article]

·
Looking for leadership
Latest Issue: June 29, 2005

showAds('bigbutton')?>






showAds('mediumbutton')?>


showAds('wildlinks')?>