Wednesday, January 18, 2006


When current New York Knick and NBA Rookie-of-the-Year candidate Channing Frye graduated, he left big shoes to fill. Arizona had a number of big bodies and big feet to fill those shoes, however, and men's basketball Head Coach Lute Olson and his coaching staff were excited to use their frontcourt depth against opponents.
That depth has been dissipated - if not completely obliterated - since the season began. While getting swept on the road at the Oregon schools, Arizona's beef, aside from junior forward Ivan Radenovic, tallied zero points and two rebounds in just 20 minutes. [Read article]

·
Injuries leave Wildcats' weekend lineup in the air
·
Don't give up yet
·
Kervin transfers to TCU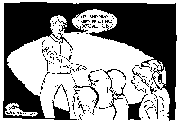 For years, Arizona basketball fans have dreamed of a single student section with every seat full of jumping, shouting fans cheering so loudly that the opposing team can't get the noise out of their heads while on the bus riding home.
This year the establishment of the student section for men's basketball games has been an outstanding change that has created an opportunity for exactly this sort of scenario in McKale Center.
In contrast to previous seasons, all students attending the game now sit in a single, unified student section, which has helped to create the loud, exciting atmosphere that is vital to a home win. [Read article]

·
Less talk, more results for homeless
·
Mailbag
Latest Issue: January 12, 2006
Latest Issue: December 6, 2005
Fire twirling, sword swallowing on club's weekly agenda
There's a little pyromaniac in all of us. Blame our caveman instincts, but our fascination with this force of nature - both destructive and life-sustaining - starts with childhood, where experiments with a Zippo lighter and your mother's industrial-sized can of hairspray gives you hours of fun and, if you're lucky, a brand-new set of eyebrows. [Read article]

require('/home/webby/html/papers/98/polls/current.php')?>

showAds('bigbutton')?>







showAds('mediumbutton')?>


today
---
5:30 pm
UATV: Daily Dose
6:30 pm
Dorm Room Sports Chat
7 pm
Love Potion No. 9
9 pm
An Affair to Remember
11:30 pm
The Wedding Singer

Show Schedule
Interview Archives

showAds('wildlinks')?>