Wednesday, February 1, 2006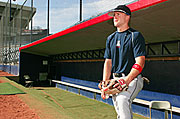 Lone returning draftee set for senior season with babyfaced squad
In the wake of the Arizona baseball team's wholesale roster change-out, there has been at least one constant source of reliability for the Wildcats - senior infielder Brad Boyer.
Boyer, who was drafted in the 14th round by the Seattle Mariners in June's Major League Baseball draft, decided to return to Tucson for his senior season while former teammates Trevor Crowe, Nick Hundley, Jordan Brown, John Meloan, Kevin Guyette and Chris Frey all left early after being drafted. [Read article]

·
2006 Softball Season Preview: Chemistry set, Wildcats a family again
·
Golf's Liaw flying high after eagle
·
Schwartz on sports: Catch some baseball, why don'cha?
·
Gymcat wins conference weekly award
·
Changes shine up Sancet
·
Ace aims for title, not records
·
Newcomers charging onto softball infield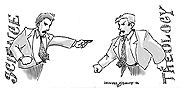 Earlier this month, the official newspaper of the Vatican weighed in on the debate over intelligent design in the classroom by supporting the claims of those who have said that it is not a scientific theory and should not be taught as one.
The article appeared in the newspaper L'Osservatore Romano in a special section meant to address the controversial topic, which has been widely publicized in America in recent years.
As a theory, intelligent design probably doesn't deserve all the criticism that it draws, but the decision to prevent it from being taught in public science classrooms is a good one. [Read article]

·
Music education is vital
·
Editorial: Restricting majors not a fair solution
·
Mailbag
Latest Issue: January 26, 2006
Latest Issue: December 6, 2005
Fire twirling, sword swallowing on club's weekly agenda
There's a little pyromaniac in all of us. Blame our caveman instincts, but our fascination with this force of nature - both destructive and life-sustaining - starts with childhood, where experiments with a Zippo lighter and your mother's industrial-sized can of hairspray gives you hours of fun and, if you're lucky, a brand-new set of eyebrows. [Read article]

require('/home/webby/html/papers/98/polls/current.php')?>

showAds('bigbutton')?>







showAds('mediumbutton')?>


Wednesday
---
5:30 pm
UATV: Daily Dose
6 pm
UATV: Wildcast
6:30 pm
Dorm Room Sports Chat
7 pm
Super Troopers
9 pm
An Affair to Remember
11:30 pm
The Beach

Show Schedule
Interview Archives

showAds('wildlinks')?>