Friday, October 22, 2004


Coulter avoids pie in face
Conservative author bashes Kerry, Democrats at packed Centennial
Two men ran up on stage last night and threw pies at conservative author Ann Coulter while she spoke in Centennial Hall.
Coulter was speaking to a full house, answering questions from the audience when the men approached the stage.
Lucina Kress, a junior majoring in Spanish, said she and others ran out of Centennial Hall to chase the two men. [Read article]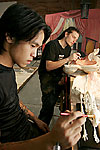 Freak show brings freaks to Tucson
A man with fish scales and decomposing Siamese twins are a few of the gruesome characters UA students will portray for a Halloween freak show downtown tomorrow.
Disinterred Productions, a local production company, will bring Hollywood-style makeup and effects to a local theater to create a freak show modeled after a 1920s carnival for the next two weekends.
Pearry Teo and his partner Mike Peterson of Disinterred Productions have brought their knowledge of Hollywood-style effects to create a gory, scary and realistic freak show. [Read article]




Friends remember life of killed UA student
Friends celebrated the life of a UA student who was killed last week in an accident at work, remembering his leadership, compassion and desire to help others.
More than 500 people attended Joshua Morgan's funeral in Peoria over the weekend, an event intended to celebrate Morgan's life rather than mourn his death, said Allyson Sweeney, an agricultural education sophomore who knew Morgan for six years. [Read article]




Humor key to political satire, cartoonist says
Political cartoonist and satirist Bill Fitzsimmons of the Arizona Daily Star said political cartooning is merely a simplified concept, conveyed on a two-dimensional scale.
The irreverent and energetic 1977 UA alumnus spoke to a crowd of about 40 people yesterday at the UA Museum of Art about the free expression of ideas through political satire, reinforcing a cartoonist's duty is to bring issues to light through humor. [Read article]




Young Dems peacefully protest Coulter speech
A handful of UA Young Democrats met at Old Main last night to peacefully protest Ann Coulter's speech by canvassing campus residence halls to get students to vote in early polling next week.
Democratic Rep. Raul Grijalva, and District 8 Democratic Rep. candidate Eva Bacal, spoke last night about the work the UAYD have been doing for the election.
The group was protesting peacefully as a response to the UA College Republicans' rude and interruptive protests at the Michael Moore, Theresa Heinz-Kerry, and John Edwards's speeches, said Alicia Cybulski, UAYD president. [Read article]




Fast facts
Things you always never wanted to know
The Impressionist painter Claude Monet (1840-1926) painted more than 300 pictures of the same lily pads. The now-famous plants grew in a pond behind his house.
Auguste Rodin (1840-1917), one of the great French sculptors, was allowed to freeze to death by the French government even though they knew of his plight and could have saved him. Rodin, forgotten in the last years of his life, was refused financial aid several times by the French state, even while the statues he had donated to the country were kept warmly housed in museums. In the winter of 1917 Rodin's application for a room in one of these museums was rejected, and a month later he died in a garret from frostbite. [Read article]




showAds('bigbutton')?>






showAds('mediumbutton')?>

showAds('wildlinks')?>