Wednesday, January 12, 2005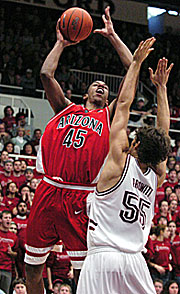 Winter break went well for the No. 16 Arizona basketball team, but it could have gone great. The Wildcats (12-3, 2-1) went 6-0 in that stretch before stumbling at Stanford, 87-76, on Jan. 8.
During the break, they beat a ranked team in Marquette, while playing a defensive brand of basketball, scoring only 48 points, but holding Marquette to just 43.
They also played that game without senior guard Salim Stoudamire, who failed to live up to "senior responsibilities." Arizona played archrival ASU and played as well as it has played all year, beating them 97-79 in the Pacific 10 Conference opener at McKale Center. The team hit 100 points for the first time this year against Manhattan, showing the mid-major Jaspers it had no chance against the Wildcats early in the game. Arizona won the game 105-75 and made a statement of not playing down to the level of their competition. [Read article]

·
Women's Hoops: Cats' 34-game home streak snapped
·
Knauer's Korner: UA hoops teams must learn from common foe
·
Swim and dives kicks off '05 with two wins
·
Soccer: Cats still reaping benefits of record-breaking season
·
Icecats sweep St. Louis for first wins of new year

Laura Keslar
Keslar is a pre-pharmacy junior and a returning columnist from the desert wasteland otherwise known as Yuma. She fears chickens, ducks and other assorted fowl, and would rather see them on the dinner plate than walking anywhere near her. While she still maintains her massive collection of Donald Rumsfeld pictures, she has plans of spending less time drooling and more time emulating that handsome old man. Other old, possibly dead, men she loves and tries to emulate include Barry Goldwater and F.A. Hayek. She has become addicted to not only the time-old stimlant coffee, but she has also joined the masses in their addiction to blogging, LiveJournal and Thefacebook. Her column will appear Mondays. [Read article]

·
Editor's Note: Not the same old Wildcat
·
Mailbag
Latest Issue: December 8, 2004

require('/home/webby/html/papers/98/polls/current.php')?>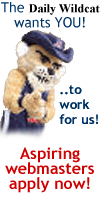 showAds('bigbutton')?>






showAds('mediumbutton')?>


showAds('wildlinks')?>