Going X-treme!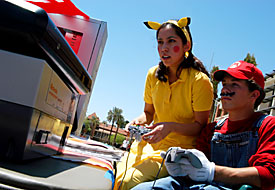 DEREKH FROUDE/Arizona Daily Wildcat

Chip Norris, management information systems and computer science freshman, and Andrea Privett, undecided freshman, compete in an intense game of Mario Kart while dressed as Mario and Picachu on the UA Mall Monday afternoon. The two are members of the video game club and were on the Mall promoting the club.

By Biz Bledsoe
Arizona Daily Wildcat
Thursday May 1, 2003


Players, promotion and profanity unite in video game club

Video games are the new religion. Video games are the new sex partner. Video games are the new social scene.

These declarations come from the costumed and heavily sarcastic members of a new campus social club. Video Game Xtreme plowed its way onto the UA club scene this semester and has since become "the best club on earth," according to its founder, Malcolm Berman.

Members can be seen dressed as their favorite video game characters regularly, whether they are reading editorials at their weekly meetings or wrestling on the Mall to drum up attention.

Meetings are held on Monday nights at 7 p.m. in the Social Sciences building auditorium. This week, members mounted the stage to read their editorials and game reviews, all generously sprinkled with references to sexual acts, profanity and gamer stereotypes. A costume contest followed, first prize of which went to a soldier whose outfit took 12 hours to complete. There were also four TVs set up for people to play games on afterward.
---
When and Where
The Video Game Xtreme Web site is www.videogamextreme.netfirms.com. The last meeting of the semester will be held Monday night at 7 p.m. in Social Sciences, Room 100.
---
"One day I found what I was looking for, and it was in a controller, a couch and a TV. It also resulted in the destruction of my social life," joked a costumed club member as he read from his editorial at Monday night's meeting."My altar is the controller, a Big Gulp and a pizza."
Another member, social chair Brandon Conroy, saw video games as an entrepreneurial venture just waiting to happen. His editorial was about his wish to start a virtual porn company of sorts, aptly called Virtual HardOn.
"In the new millennium, I want people to be open to digital relationships," said Conroy, a mechanical engineering freshman. His editorial's purpose was to boost donations for his company. "Playboy just doesn't do it for me anymore. My new millennium motto is ╬Just cause the girl ain't real, doesn't mean my orgasm isn't.'"
Gamers in Video Game Xtreme don't take themselves too seriously. And yet members are serious when they say that their new club is designed as more of an entertaining social opportunity than as an excuse to stay locked in their rooms playing games all night.
ASUA has seen the potential in this un-self-conscious group. They fully financed Video Game Xtreme, something they did for only three other clubs out of the 40 that applied for money, said Berman, a communication senior. After only three meetings, the club has about 45 active members. They hope to soon be able to fill the 500-seat Social Sciences auditorium.
The goal of the club is not necessarily to encourage more video game playing, but to break down the stereotypes long associated with the activity and to provide students with a social venue.
"I didn't want to have a resume-builder club," Berman said. "I realized (video games) are one of my interests and I wanted to do something different. I want people who see the gaming stigma to come to the meetings and see how different it really is."
The difference lies in the aggressive and humorous way the club conducts its promotions and meetings. In addition to the Mall wrestling matches, flyers have been distributed with less-than-PC messages. One flyer showed Mario with his middle finger raised, saying "Fuck you very much for coming to our first two meetings."
As might be expected, the meetings are equally full of expletives. But the attendees aren't as predictable: Instead of the pale, skinny, nearsighted kid with pimples, you see the built guy wearing a pirate's eye patch. There's the girl who spent 12 days on her costume, which features yards of white and red satin ribbon. And then there's the clean-cut looking kid with khakis and a button-down. There are even a few girls, a rarity in the gaming world.
"The club's purpose is to be entertainment," Berman said, while dressed in all-black with a towering top hat. His belt-buckle had a giant "M," for Malcolm, on it. He dragged on a cigarette while describing himself as "the ring leader" of the group ¸ thus the hat. "We're here to express the different sides of ourselves that would normally just be bizarre."
Entertainment is just what you'll get when talking to some of the club's members. Conroy, who was dressed in a bathrobe and a Vikings hat, is one of the more extravagant members.
"I play about 60 to 70 hours a week when I don't have a test," he said. "On a weekend day, I'll play 10 to 15 hours, until it's time to go out to the parties."
That leaves little time for the virtual porn business, not to mention school.
"Last semester I got a 1.77 GPA because of video games," Conroy said. "This semester I'm doing a lot better ¸ a 3.00."
Most Video Game Xtreme members aren't that enthusiastic about their gaming. Berman has time to play only about one to two hours per week, while others will play up to two hours per day. That's not the daylong marathon you might expect from a serious gamer.
Balancing school and a social life with gaming is a challenge that systems engineering junior Matt Warren has met.
"I used to be pretty bad (about playing games all day), but now I balance it," he said. Warren owns six game systems and about 50 games. He is also reputed to be a force to be reckoned with in the gaming world.
"Montumba (Warren's nickname) is the best player at school, hands down," said Aaron Moats, a communication senior, although that status has only been determined among "an inside group of us who play freakishly."
Setting up tournaments is a part of Video Game Xtreme's mission. At the meeting Monday, a few members questioned the audience to see if any would be interested in playing on open servers over the summer or entering tournaments. One such event is a HALO tournament sponsored by Video Game Xtreme that will be held on Dead Day. The cost of entering is $5 for a single player and $15 for a team of four.
Above all, Berman's intent in starting Video Game Xtreme was to let students focus on something outside academics.
"When this club was created, we hoped to give people a chance to relax and have a good time away from the pressures of college life," Berman wrote in a press release. "We want to motivate others to not only join clubs but to also realize the potential they truly have."
Even though that motivation takes the form of racy flyers, wacky antics on the Mall, costumes, and profanity, it seems to be working.
"If people found our meetings boring, they wouldn't come back," Conroy said. "As long as (our antics) get us attention, we'll do it."
"Although it may be the wrong (kind of) attention," Moats interjected, smiling.
Something to say? Discuss this on WildChat