Mamma Mia!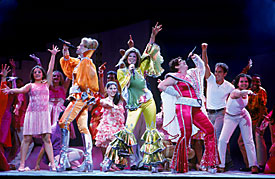 PHOTO COURTESY OF UAPRESENTS

"Mamma Mia!" gets its name from an ABBA song, more than 20 of which are featured in the musical. The show is playing all over the United States, London and Toyko, among other locations.

Arizona Daily Wildcat
Thursday May 1, 2003


Good ol' times with the family: ╬Mamma Mia!' hits Centennial Hall

You recognize the music and sing along. You dance like you've never danced before ... or at least, like you've never danced in a long time. You feel like everyone you're with is family, like everyone is the same and yet you are all special and unique.

Can you really be at a Broadway show?

Actually, yes, you can. For all of this magic to happen, you must be at UApresents' presentation of "Mamma Mia!"
---
Where and When
There will be a special sneak preview of "Mamma Mia!" today at 2 p.m. Students can get tickets for half price with their CatCard at Centennial Hall.
---
The hit musical, which opened in 1999, was written by Benny Andersson and Bjorn Ulvaeus ¸ members of the '70s pop group ABBA. "Mamma Mia!" features an original comedy that interweaves 22 of ABBA's original songs into its irresistible web.
Rachel Rockwell, dance captain for this tour of "Mamma Mia!" feels that it is the show's musical background that makes it truly unique.
"It is a very clear use of pre-existing music," she said. "Right from the beginning, they (Andersson and Ulvaeus) point out to you, ╬This is not going to be your typical musical theater experience, but if you're willing to go on that ride with us, you're going to have a great time!'"
This experience includes a light-hearted story about a single mom named Donna, her stepdaughter Sophie and their crazy dreams. It includes enthusiastic singers that make everything look easy enough for you to join in. It includes clever dance movements across the stage. It includes funny quips. It includes more than I can describe.
The audience reaction to "Mamma Mia!" seems to be one of the driving forces behind its success. The show has never been to Arizona before, but Ken Foster, director of UApresents, knew it would be a sensation.
"It's a great show, lots of fun, and appeals to all ages," he said. "Students will really like it because it's a very youthful cast, a love story and has great music with a romantic story."
Rockwell said there are many reasons people might enjoy the show.
"It is very accessible, in that, it has a lot of things that people relate to; it's got a lot of stuff about women and friends, mothers and daughters; and it's just a lot of fun," she said. "I think it speaks to a lot of different people on different levels, and it seems that anyone in the audience could jump up and start dancing and fit in with what's going on onstage."
And what is going on onstage takes a lot of work and practice. Rockwell is responsible for training new dancers and teaching them the entire show's choreography movements. She also has to be ready at a moment's notice to step in for any female ensemble dancer in case one cannot perform a particular night. There is also lots of choral practice for the musical numbers, not to mention the staging and the acting that must be continually perfected.
But there is much more that goes into the making of a good musical than what you see onstage. Before the show even begins, the backstage and technical crews have already been setting up for many long hours. Because "Mamma Mia!" relies so much on producing a good sound, the sound crew uses state-of-the-art equipment and sets up with careful precision, working with the local sound group to get everything perfect for the performances.
Things unique to the technical work of "Mamma Mia!" are the isolation singing booths backstage, which allow cast members who are not crowded onstage to provide harmonies and counter-melodies that enhance the onstage sound. And after the actual musical performance and bows, the cast puts on a mini-concert which head sound engineer (and husband of Rockwell) Garth Helm says resembles a loud rock concert.
But this show is not just about the backstage work, or the combination of the backstage and the onstage work. This particular group of performers has close relationships with each other outside of their work. There are about 55 cast and crew members who travel and live together during the touring season; these members include everyone from performers to producers to technical workers to designers. They do fund-raisers together, go to barbecues and picnics together, and watch each other's families grow up together. Rockwell, who has done numerous other shows, says that it is this family environment that makes her job that much more enjoyable.
Helm agrees, and also points out that the performers are not more highly regarded than the backstage technical workers, and that everyone is supportive of each other.
"Everybody is a star in this show, and everybody does their own thing, and they are very well-respected for the input they each give," he said. "There are no egos to get in the way."
It is perhaps these offstage relationships and family environment that make way for such a lively and family-oriented feeling onstage, a feeling that seems to trickle down contagiously into the audience in every touring city.
"When they come to see the show, I think they all feel like they could be up there doing it with us, and it makes them really happy," Rockwell said.
Foster agrees that "Mamma Mia!" is definitely a happy-hitter that will be the most popular of all the Broadway shows at Centennial Hall this year.
"I expect it to be the most popular of all, mostly because it is so fresh and new and because I know people will have a good time at the theater when they come to see it."
Something to say? Discuss this on WildChat