Successful spinning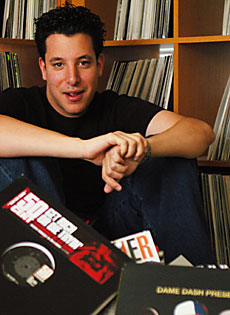 DANIELLE MALOTT/Arizona Daily Wildcat

UA senior Andrew "DJ Cobra" Bagg sits among his collection of records at local radio station Hot 98.3 FM. Bagg, a former disk jockey for KAMP radio, has achieved success with his mix albums.

By Ian Musil
Arizona Daily Wildcat
Monday March 24, 2003


Up-and-coming DJ Cobra got his start at KAMP radio, now moving toward international stardom

Andrew Bagg has a busy life. The communication junior, who is among the top 200 mix-artists in the country, is learning to collaborate his school life with awards shows, famous musicians and star treatment.

"I am flying home on a plane from a five-star resort in San Juan and I am writing an article on bird beaks. School is so unexciting and boring, sometimes," Bagg said.

Bagg said that although he plans to graduate from UA, the only thing he will use in his everyday life is the skill he acquired while working at KAMP radio.

Known in the industry as DJ Cobra, Bagg's mix albums are quickly achieving international acclaim. His most recent project, "Mixtape Gods, Volume 5" placed 65th on the Music Monitor Network Charts. Album sales for artists such as Pink, Shania Twain and Busta Rhymes are behind Bagg on the list.

Sudden success in the music industry, Bagg said, is overpowering and often makes it difficult for him to keep a level head.

KAMP has been a stepping stone for a lot of great DJs.
- Andrew Bagg
Former KAMP DJ

At the MixShow Power Summit in San Juan, Bagg said, he mingled with some of the industry's biggest stars, while Eminem and 50 Cent performed.
But he added that it is important to remember where he started.
When he came to the UA, Bagg said he didn't expect to get a job at the campus radio station, but still sent in a sample tape. He was hired soon after and immediately given an on-air position.
When his two-hour urban extravaganza first hit KAMP airwaves, there were no radio stations in Tucson that played solely hip-hop, Bagg said. Ultimately, he filled a niche that had a large listernership, but had been seemingly ignored, he said.
"My show at KAMP was about bringing hip-hop to UA and Tucson. I exposed people to hip-hop by interviewing artists like Exhibit, Jurassic 5 and Dilated Peoples on-air," Bagg said.
KAMP radio is well known throughout the world for its diverse programs and non-conventional formatting, said Dave Roberts, KAMP Program Director, adding that 25 percent of the station's listeners are outside the U.S.
"One of the beautiful things about KAMP's programming is that we are completely free form. We allow our DJs to play music that they love," he said.
And that's what Bagg loved about KAMP radio.
"Student (DJs) have the freedom to play what they want. Here (Hot 98.3), if I play a song that is not on the list, I get yelled at. There (KAMP), I could always play whatever I wanted," he said.
Adlai Wilson, Bagg's fellow KAMP alumni and a Hot 98.3 DJ, said student radio is important because it gives creative students the technical skills and contacts to leapfrog into the industry.
"KAMP has been a stepping-stone for a lot of great DJs," Wilson said.
However, Bagg said that because of the station's small campus audience, DJs must seek out other experiences in larger markets.
"The audience base just wasn't big enough for me." Bagg said. "So I moved on."
Broadcasting over a low power AM (1570) frequency, the Internet, and campus television, KAMP DJs can't reach the audience of larger, higher power FM stations. KAMP still awaits the FCC's verdict on the Low Power FM frequency permit they requested in June 2001. The FM frequency would increase KAMP's broadcast radius from less than one mile to 3.5 miles.
Arizona Student Media Broadcast Adviser Mike Camarillo said that because the organization is strong among its campus listeners, KAMP's resilience will eventually earn them the FCC license.
"There's no reason to be discouraged by the delay," Camarillo said.
However, Bagg disagrees, insisting success in the radio industry requires a more aggressive approach.
Bagg said he left KAMP because he failed to see eye to eye with leadership on this issue. He said he was shot down after he approached the group with progressive ideas about increasing listenership and fundraising.
Roberts admits KAMP doesn't have the money to do everything it wants, but said that since students approved the continuation of the $1 KAMP fee, UA student radio will be able to make new advancements.
"We do the best we can. It's not as if we have CD players held together by chicken wire · nor do we have the expensive, cutting edge MP3 equipment," Roberts said.
Regardless of their disagreements over funding and audience size, Bagg insisted KAMP is a positive organization on the UA campus, adding that it provides a professional outlet for UA students who don't conform to the conventional student mold.
Bagg is not KAMP's first success story. Other KAMP alumni work for Disney, E! Network and Interscope Records. Several on-air KAMP DJ's have also gone on to spin records at major broadcast stations such as KFMA, KOLD, Cirrus and KROQ, Bagg said.
Something to say? Discuss this on WildChat