Jim Breuer: mullets, metal, mayhem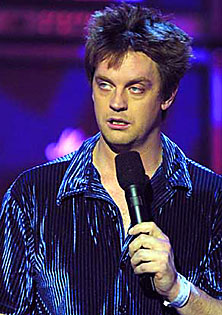 Photo courtesy of Comedy Central

Jim Breuer does stand-up while the "Breu Crue" play in the background. No, he is not high in this picture.

By Jessica Suarez
Arizona Daily Wildcat
Thursday September 26, 2002


Jim Breuer gets high a lot. Not all the time, mind you, but sometimes. But his low-slung eyelids and pot ÷ smoker's laugh often make people think he's lit all the time. Oh yeah, co-hosting the "High Times" Stony Awards with Snoop Dogg, starring in a movie called "Half Baked" and playing a stoner who wants to legalize pot on "Saturday Night Live" doesn't help break this misconception, either.

But Breuer won't be high during his appearance this weekend at Zia Record Exchange. Probably.

"No I'm not high all the time," said Breuer, who recommends extra-strength Visine for people who look like they're high when, well, they really are.

"Do you think I'd be able to function if I was?"

Breuer probably wouldn't be able to keep up with the numerous projects he's been involved in since leaving "SNL" in 1998. While a cast member for "SNL," he played Joe Pesci for "The Joe Pesci Show," as well as Goat Boy and Gunner Olson, a metal head who would sing the news on Weekend Update. Breuer, who is working on a sketch comedy pilot for Comedy Central, says he doesn't miss "SNL" too much. He prefers his live solo performances.

"I'm not stuck on one thing, when I go live," he said "I can do AC/DC, I can do stand-up, I can do sketches and goofy songs."

Breuer is currently on tour with his backing band, the "Breu Crue," on his "Lighten Up" comedy tour. The band provides background music for his stand-up routine and the "Hardcore Hokey Pokey," the children's-favorite-turned heavy metal.

"The band allows me to do all that. They play background music while I tell stories," he said. Breuer however, won't become a rock star anytime soon, even though he's thought about it.

"Of course, who doesn't. You're a liar if you've never thought about it," he said. "Will it ever happen? No. I was meant to be funny, not to be Bono."

Breuer will be at Zia to sign copies of his new comedy CD, "Smoke ╬N Breu." But it won't be Breuer's first Tucson appearance. Once, Breuer was in town for a stand-up comedy appearance at a local club, when the power cut out just before he was set to go on.

"There was a blackout for like five blocks. I got to know the wait staff," he said, adding that he "relaxed" with them in the back.

"All of a sudden, the lights went on and we were like, ╬Oh shit that was great.'"

His record, which was released by Comedy Central this week, combines his love of heavy metal with reworked stand-up and "SNL" material. The first song, "AC/DC," harkens back to Breuer's Hessian childhood.

"I was a straight-up metal head," Breuer said. "I hadn't even tried pot yet. That's how scary it is," he said of one picture of him in high school, which is featured on his Web site, www.jimbreuer.com. In the picture, he is wearing a Judas Priest T-shirt, fur-covered boots, and the faintest beginnings of a mullet haircut. But Breuer has no shame over his haircut history.

"Yeah I had a mullet, and I'm proud of it, too."