Faculty backs ╬excellence'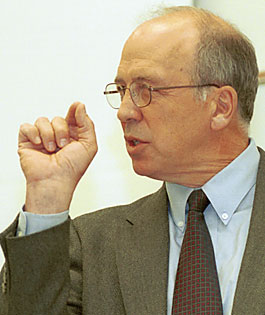 SAUL LOEB/Arizona Daily Wildcat

Provost George Davis speaks to the Faculty Senate at yesterday afternoon's meeting in the James E. Rogers College of Law. Davis asked for help identifying areas that should be cut or merged, while adding that not everyone would readily accept the decision.

By Jesse Greenspan
Arizona Daily Wildcat
Tuesday October 8, 2002


Faculty Senate favors Likins' program, but wants input in plan to refocus academics

The Faculty Senate voiced support yesterday for President Peter Likins' plan to refocus the university's mission, although some senators asked for more faculty input in the decision-making process.

Although many faculty senators supported Likins' plan, dubbed "focused excellence," they expressed concern over the input they would have on the overall process.

"I completely support your move," said Gail Burd, the associate head of the molecular and cellular biology department. "(But) I am very concerned that the scholarship and academic side be represented in your decision."

Student body president Doug Hartz, who sits on the Faculty Senate, also expressed support for the plan, but stressed it was important to remain cautious while everything was being worked out.

"There are a lot of ideas on the table Ě and they are all a little vague," he said. "There is a legitimate precaution (among the faculty) because they realize right now there are a lot of ideas and a lot of impact to be had, and they want to make sure they are not left out of it."

To help identify areas that can be cut or merged, Provost George Davis asked for input from the faculty, while recognizing that not everyone would readily accept the decisions.

"In the next month it is really important for me to hear from the faculty," he said. "Reflection and input is already flying in."

Still, Likins did add that the decision-making process was not democratic.

He said cutting programs was inevitable, although he will not be prepared to look into the specifics of the situation until November.

"That will be much, much tougher," he said.

Nationally ranked programs would remain a top priority, Davis said, but racial and geographic diversity would not be sacrificed.

The senate meeting came just three days after Davis released a memo outlining 13 academic themes that administrators believe the university should focus on as it cuts some programs and merges others.

Those themes, range from "Astrophysics, Earth and Space Science" to "Cultural and Ethnic Studies, with an emphasis on the American Southwest." (See table on Page 6.)

The next step in the refocusing process will be getting input from faculty and other employees, who are being asked to give their suggestions to Davis and other administrators.

In October, the three university presidents and the Arizona Board of Regents will discuss preliminary plans for restructuring the three state universities, but Likins won't present the board with a final restructuring plan until June.

On Friday, all college deans were asked to prepare plans for a 5 percent cut, while non-academic departments were asked for plans to trim 10 percent of their budgets.

State-mandated budget cuts aren't the reason for the restructuring, Likins said in an interview Friday, but long-term problems with the state budget are forcing the universities to narrow their focuses.

Of the university's approximately $1 billion budget, about one-third comes from the state Legislature ¸ and that's before the $33 million in state funds that is expected to be cut. About 15 years ago, state funds made up about 45 percent of the university's total budget, Likins said Friday.

"Money is being extracted from the university system at a rate that threatens the entire enterprise," Likins said. "The entire system will diminish in quality to such a degree that recovery may be difficult."

A series of decisions by the Arizona government in the mid-1990s caused the current budget crisis, Likins said, adding that the UA would have an additional $77.7 million a year if not for state tax cuts.

The Faculty Senate also addressed concerns that ASU and NAU would resent the UA's plan to increase admission standards above that of its counterparts.

"I think we have to be very careful how we speak of our colleagues and about what direction the other two universities will take," chair of the faculty Jory Hancock said. "I am asking in advance for everyone to try and stay calm and to have a sensitivity maybe we have lacked when talking about ASU and NAU."

ASU President Michael Crow has said he would like to see his university continue to grow to keep pace with Arizona's rapidly increasing population, while NAU President John Haeger has said he wants his university to focus more on liberal arts.
---
Where to focus?
Provost George Davis released a list of 13 "themes" Friday, outlining areas he would like to see UA concentrate its efforts on enhancing.
· Astrophysics, earth and space sciences.
· Biomedical science and biotechnology to advance human health and nutrition.
· Borderland studies with emphasis on the Southwest.
· Cognitive and neurosciences applied to language, learning, health and behavior.
· Cultural and ethnic studies, with emphasis on the Southwest.
· Community outreach through the arts and humanities.
· Environmental quality and sustainability, including global change.
· Exemplary professional work-force development to meet pressing shortages.
· Information science, technology and management.
· Integration of biomedical discovery with health care education and delivery.
· Indigenous peoples: culture, policy, economic development and law.
· Optical sciences and the applications of optical technologies.
· Water-related engineering, science, agricultural technology and policy.