Monday, September 13, 2004

UA senior named top chemical engineer
The American Institute of Chemical Engineers named a UA student the top chemical engineering student in the nation for 2004.
The AIChE awarded the $5,000 John J. McKetta Undergraduate Scholarship to Stephanie Freeman, a chemical engineering senior.
The McKetta award emphasizes leadership, a requirement Freeman fulfilled by serving as the vice president of the UA chapter of AIChE last spring.
Other criteria for the selection of the top student award were an essay detailing the student's future plans, including the student's career goals, along with three letters of recommendation, Freeman said. [Read article]




College tops in minority enrollment
Health college at top in American Indian student enrollment in U.S.
The UA's College of Public Health is ranked first nationally in American Indian student enrollment and sixth in Hispanic student enrollment.
Recent data from the national Association of Schools of Public Health states that among 33 accredited schools of public health, the Mel and Enid Zuckerman Arizona College of Public Health ranks in the top 10 in total minority enrollment in accredited schools of public health. [Read article]




UA-designed heart set for FDA OK
Artificial heart helps seriously ill while waiting for transplant
The CardioWest Total Artificial Heart, designed by a UA surgeon, will receive FDA approval this month, just weeks after the results of its nine-year study were published in the New England Journal of Medicine.
The CardioWest Total Artificial Heart, an air-driven, biventricular implant, is given to seriously ill patients who suffer from heart failure and are in need of a transplant. Although it cannot permanently replace the heart, the artificial heart assists survival while a patient awaits a transplant. [Read article]



ASUA to discuss Dec. graduation at town hall
ASUA senators announced plans to hold a town hall meeting to address concerns about the cancellation of the December university-wide commencement ceremony.
A special Senate meeting was called Friday to approve funding for the town hall, which will take place Wednesday at 1 p.m. in the Kiva Auditorium of the Student Union Memorial Center.
After the seemingly sudden decision to cancel the ceremony, strong feelings have surfaced from different parts of the university community, said ASUA senator Steven Eddy. [Read article]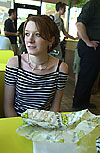 Campus restaurants go 'Atkins'
Restaurants on campus are catering to the Atkins diet with menus offering "lo-carb" options and signs saying, "We can prepare any item Atkins-friendly."
An estimated 20 million people worldwide have adopted the Atkins diet, the Associated Press recently reported, but some students at UA say the craze is dying down.
"I think cutting a major part of your diet is not the way to go," said Evelyn Hirsh, a junior majoring in journalism and Spanish, sitting at IQ Fresh with a friend. [Read article]




Victoria's Secret lets 1,000 dogs out at UA
Approximately 1,000 stuffed dogs have been hidden on campus to help promote Victoria's Secret's "Pink," a new clothing line of bras, panties and sleepwear for college-aged women.
Any UA student who finds one of the pink and white dogs with a tag around its neck can take it to Victoria's Secret in the Tucson Mall to receive a prize and be entered into a contest to win a Vespa motor scooter.
The dog hunt begins today and lasts until Friday. [Read article]




Fast facts
Things you always never wanted to know
The Japanese kamikaze pilots of World War II were given privileged treatment and considered to be heroes. All volunteers, they underwent rigorous training that prepared them for their suicide missions. If they refused to stay in the corps, they were shot as traitors.
By the age of 25, he had been expelled from the army and was disgraced, despondent, without funds, apparently without a future and was suicidal. The man was Napoleon (1769-1821). One year later, he was the youngest general in the French army and began winning victories with ragged troops that were at the point of starvation. [Read article]




showAds('bigbutton')?>




showAds('mediumbutton')?>

showAds('wildlinks')?>