Wednesday, October 5, 2005

Southern California quarterback Matt Leinart is a great player - just ask Arizona football head coach Mike Stoops, who in spring said even then he eclipsed Utah's Alex Smith, the NFL Draft's overall No. 1 pick in April.
But as with any great quarterback, a great offensive line sits in front of the 2004 Heisman Trophy winner, anchored by junior center Ryan Kalil.
Kalil, a 6-foot-3, 285-pound Corona, Calif., native, is the son of Frank Kalil, an Arizona center from 1980-1982, and nephew of Tucson businessman George Kalil. [Read article]

·
Women's Club Volleyball: Club team makes friends, beats foes
·
A slice of bacon: Nothing's impossible, even against Southern Cal
·
Arizona men tie for 7th place in challenge with Big Ten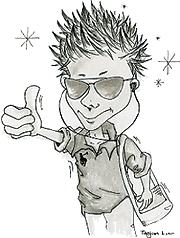 Lately, many students on campus have been acting in an inexplicable and unjustifiable manner. Defying all conventional laws of judgment and physics, they have managed to alter their clothing in an obnoxious way.
I am referring, of course, to the trend of popping the collar - flipping the collar of the polo shirt in a daring and gravity-defying move of bravado. Like a male bull pawing and snorting, this action effectively lets everyone know who the boss is and who is in control. [Read article]

·
Leal should give city refund
·
Editorial: Don't let 'the Hammer' off the hook
·
Mailbag
Latest Issue: September 29, 2005
Latest Issue: October 4, 2005
Season's fashion trends tend toward relaxed, femine looks
Fashion is a temperamental, unexplainable beast. It's quite the phenomenon to think that people will dress in the same style without an explicit agreement.
Take for example the flappers of the '20s or the disco, glam rock era of the '70s or whatever the hell they were thinking in the '80s.
The unspoken group assent to style is inexplicable as far as trying to find its source. All we can do is observe the aftereffects. In regard to this fall fashion season, here are a few of the things that we've all somehow implicitly agreed to. [Read article]

require('/home/webby/html/papers/98/polls/current.php')?>

showAds('bigbutton')?>







showAds('mediumbutton')?>


showAds('wildlinks')?>