Tuesday, October 11, 2005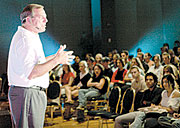 A former pornography addict told students last night that pornography is more than just adult Web sites and nude pictures in magazines, it's any material designed with the purpose to cause sexual excitement.
Michael Leahy, the featured speaker in the Porn Nation presentation, told a crowd of about 800 that advertisers are using porn in their ads in every type of media because sex sells.
"You are ground zero of a culture war," Leahy said.
But this is causing a saturation of sexual images into the media, creating relationship problems, eating disorders, sexual addiction and other societal issues, Leahy said. [Read article]

·
Major fair mandatory for freshmen
·
Cement shortage raises costs
·
Gay frat seeks UA approval
·
Quick Hits
·
Fast Facts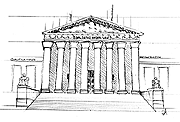 President Bush's nomination of Harriet Miers to the Supreme Court last week sparked a firestorm of criticism.
Did he find a qualified nominee in the woman he has referred to as a "pit bull in size-6 shoes"?
There is no doubt that Harriet Miers is a more than competent attorney. Perhaps she will make a great, Constitution-respecting associate justice on this nation's highest court.
But perhaps not. The very fact that Miers was a lawyer also prevents almost anything from being known about her (because of attorney-client privilege). [Read article]

·
Judging Harriet Miers: Miers too narrow
·
Judging Harriet Miers: Lock up this 'pit bull'
·
Mailbag
Latest Issue: October 5, 2005
Latest Issue: October 11, 2005
Cool evening temperature, activities lure students outdoors
The days on campus are filled with crowds of bustling students hurrying to classes under the unrelenting Tucson sun. But when the sun goes down, the pace slows and many students find it the perfect time to work out, study or just take it easy.
"I'm out here a couple nights a week," said Peter Khoury, an undeclared freshman, between tosses of a light-emitting flying disc. "It's less crowded and the weather's better." [Read article]

showAds('bigbutton')?>







showAds('mediumbutton')?>


showAds('wildlinks')?>