Sunday, November 6, 2005

As the clock ticked down to triple zeros Saturday, and the Arizona football had sealed a 52-17 upset over No. 7 UCLA, fans at Arizona Stadium stormed the grass and celebrated with the players, then carred senior running back Mike Bell off the field.

"Our fans have stayed positive through it all," Stoops said. "It was nice to win on Homecoming and do that for the fans."

Bell ran for 154 yards, and backfield mate Gilbert Harris added 112 more, as the Wildcats rolled over the Bruins. [Read article]
For the Wildcat football faithful, Arizona Stadium was the site of the biggest of all of the 2005 Homecoming week celebrations. With two minutes remaining last night and Arizona leading No. 7 UCLA 52-14, hundreds of Arizona students swarmed onto the sidelines to revel in the upset win.

And as freshman quarterback Willie Tuitama knelt to run off the final seconds, the red mob charged onto the field.

"We took (the stadium) over, and now we're taking over the whole town," said fan Kelly Peters, 24. "The Wildcats are hot like wasabi." [Read article]


---

Friday, November 4, 2005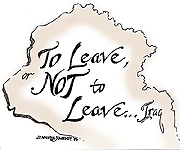 The Iraq war has raised questions about war atrocities, the Geneva Convention and urban warfare. It has brought into question the ability and training of our soldiers and their ability to fight isolated insurgents in urban environments, which many say is the new battlefield. No longer will lumbering tanks lined in rows face off against their Soviet counterparts.
These are all issues that have been brought to the front of the news, brought to the people who can solve problems. But there is one issue that has been pushed aside: Iraq has become a training ground for terrorists to hone their skills. The main exports of Iraq will not be oil; it will be trained terrorists. [Read article]

·
Alito can't cover for Bush
·
Pass/Fail: See if these ideas make the grade
·
Mailbag
Latest Issue: November 3, 2005
Latest Issue: October 25, 2005
Are you scared yet?
That time of year is approaching once again. The days are no longer endless, and tank tops are being replaced with long sleeves. But along with chilly nights comes one juicy holiday.
Ghosts and goblins are not just a thing of our childhood. In fact, Halloween seems to get better as we reach our adolescence. We are no longer restricted to a two-hour window of trick-or-treating and parents forcing us to bed with the ultimate sugar high. Now, Halloween is yet another reason to party. [Read article]




require('/home/webby/html/papers/98/polls/current.php')?>





showAds('bigbutton')?>







showAds('mediumbutton')?>