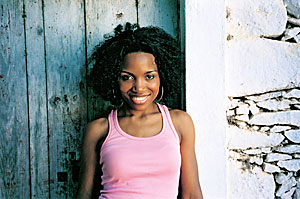 Photo courtesy of La Escondida

Portuguese artist Lura will try to lure you in by looking like Michelle Williams from the former Destiny's Child. If it works, you can see her perform Sunday night at 8 at Solar Culture.

Arizona Daily Wildcat
Thursday, January 26, 2006
Print this


Today

Mute Math

These guys used to be a Christian band, but now I hear they're more along the lines of a non-Christian band. You know how it goes. 8 p.m. $10. City Limits. 6350 E. Tanque Verde Road

Calvin Bedient

If you like writing poetry that isn't absolutely terrible for another human being to read, you'll love this lecture. An established author and poet will talk about "Five theses on contemporary poetry." 6 p.m. Free. Poetry Center. 1600 E. First St.

Tomorrow

Destructo Dance Party

As if actually standing and breathing in air at a place like Club Congress isn't hard enough, they want you to dance. But Al Perry, Limbeck, Lonna Kelly and the Reluctant Messiahs will be there. 9 p.m. $5. Club Congress. 311 E. Congress St. (21+)

The Daring Few

Only a daring few would venture to see a band that dedicates itself to playing music that sounds like it's from the '80s. Oh wait, I forgot, that's just about every single band in the world now. With Ten Percenters and Bombs for the Bored. 9:30 p.m. $3 Plush. 340 E. Sixth St. (21+)

Hansel and Gretel

This classic Grimm fairy tale is set to pop music from the past five decades. So I guess it should probably be called Hansel and Green Day. 10 a.m. $14. Proscenium Theatre. 2202 W. Anklam Road

"Live Freaky! Die Freaky!"

This movie takes place in 3069. A young man finds a copy of a book called "Helter Skelter," which describes the Charles Manson murders. The man treats it as the bible and calls Manson his messiah, and he preaches nothing but "music, murder and mayhem." Cool, but I think I saw that last night on Nip/Tuck. 10 p.m. $5. The Loft Cinema. 3233 E. Speedway Blvd.

Saturday

The Violent Femmes

Contrary to popular belief, "Blister in the Sun" is an actual song and not just a cell phone jingle. Don't believe me? Go to the show Saturday for proof. Doors open at 6 p.m. $25 in advance, $30 at the door. Rialto Theatre. 318 E. Congress St.

Titanium featuring Portia Surreal

This dance night seems even freakier than the last one. Just look at these acts: Moving Fusion, Sjynet, DJ Armanni, Nightstalker with MC XYZ, and Madrid. I feel like I'm in "Close Encounters of the Third Kind." Club Congress. 311 E. Congress St. 9 p.m. $15 in advance, $20 at the door

Desert Water, Desert Light: A Mirror Poem Series

I don't know how the hell this works, but this guy has made a sandblasted poem series on mirrors inside an art gallery. You walk around them, read the poems and listen to him talk. 10 a.m. to 4 p.m. Free. DeGrazia's Little Gallery. 6300 N. Swan Road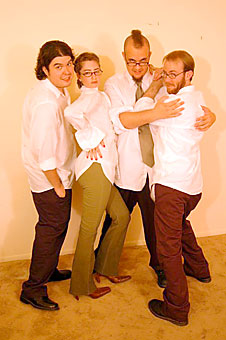 Photos courtesy of Capitol Records
Don't let their maniacal, sexy-scary looks drive you away - Surreal (top right) and The Daring Few would love to enjoy your company this weekend.
Sunday
"Crowns"
This play showcases the soul, faith and spirited style of African-American women and talks about the hats that they wear to church. $26 to $44. Temple of Music and Art. 330 S. Scott Ave.
Lura
She's one of the only women in the world who can pull off a full-fledged Afro and not look like a dropout from clown college. Maybe it's because she's Portuguese. 8 p.m. $10. Solar Culture. 31 E. Toole Ave.
Monday
Faculty Artists Series
You hate to listen to them in class, but now you have the opportunity to hear them showcase their talent, and it's even free. 7:30 p.m. Free. Crowder Hall, Music building. 1017 N. Olive Road
"Actors and Interactors" auditions
This show, which combines theater, improvisation and virtual reality technology, is hosting auditions for people who can bring the funny. Monday and Tuesday. 6 p.m. to 10 p.m. Drama building. 1025 N. Olive Road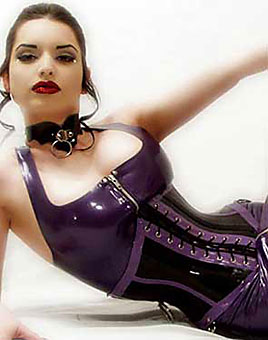 pix
Tuesday
Campo Bravo
I think this band is local, but that doesn't mean it sucks. Give it a try. 9 p.m. Free. Club Congress. 311 E. Congress St.
Wednesday
Bluegrass Music Jam
I was told the Rincon Market sells Jewish deli food, but I may be wrong if there's a bluegrass band that plays in the middle of the store. I was really hoping for those latkes! 7 p.m. to 9 p.m. Rincon Market. 2513 E. Sixth St.


Write a Letter to the Editor