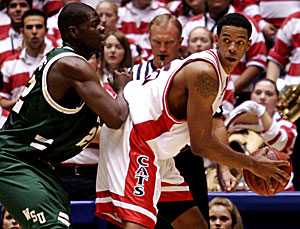 SAUL LOEB/Arizona Daily Wildcat

UA senior Channing Frye backs into the lane during the Wildcats' second-round preseason NIT victory over Wright State last week. The Wildcats take on Michigan tonight in the NIT semifinals in New York.

By Roman Veytsman
Arizona Daily Wildcat
Wednesday, November 24, 2004
Print this


Getting clobbered 78-60 by unranked Virginia wasn't the greatest way for the Arizona men's basketball team to begin its season away from McKale Center, but the No. 17 Wildcats (2-1) will get an immediate chance to redeem themselves in the preseason NIT tonight, starting with a semifinal matchup against the Michigan Wolverines at 7 p.m. MST in New York.

Michigan (3-0) is led by junior guard Daniel Horton, sophomore guard Dion Harris, and junior wing Lester Abram on the perimeter, and sophomore Center Courtney Sims down low.

"They have as good a backcourt as we're going to see all year long," UA assistant coach Josh Pastner said.

Harris led the Wolverines with a career-high 24 points in a second-round National Invitational Tournament win over Colorado, while Horton dished out six assists and had five steals. Michigan had a record of 23-11 last year and went on to win the postseason NIT tournament.

Arizona Men's Hoops
Arizona Wildcats

vs.

Michigan Wolverines
Today, 7 p.m.
TV: ESPN2
Radio: 1290 AM

NIT SEMIFINALS
The Wolverines beat Sacramento State in their last game, 70-49, while also defeating Colorado in their last NIT game, despite shooting just 39.7 percent from the field
Michigan was able to get to the free throw line 18 times, making 15 of them.
"They still played well," Pastner said. "They're very athletic, they're aggressive, and it'll be a good test for us."
The Wildcats know what it's like to not shoot well, clanking a numerous amount of shots in the first half against Virginia, shooting only 33.3 percent from the field.
Arizona was first in the nation in scoring last season but was only able to manage 60 points against the Cavaliers.
"We need to play the way we're capable of playing," Lute Olson said about the Wildcats' chances in the NIT. "That's our goal... is for us to play as well as we can play."
The Wildcats will look to turn their slow start around, and Madison Square Garden and New York have been kind to them in the past. The Wildcats are 9-0 at MSG under Olson, including 6-0 there in the preseason NIT.
"The challenge is to keep that streak alive," Pastner said. "There are three things we have to do: defend, take care of the basketball, and rebound at home, neutral, or away."
The Wildcats are 14-1 overall in the preseason NIT tournament.
"I think the good thing about having a Preseason tournament is it gives you an immediate goal to go after," Olson said. "You come out in those games with more on the line than you do with just a regular non-conference game."
If the Wildcats do play like there is more on the line, then they will face either Providence or top-ranked Wake Forest. The Friars and Demon Deacons square off before Arizona and Michigan at MSG at 5 p.m.


Write a Letter to the Editor