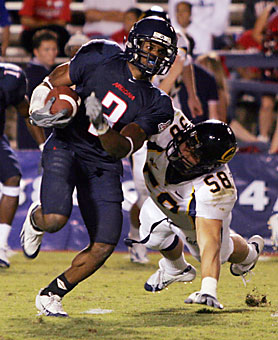 SAUL LOEB/Arizona Daily Wildcat

UA redshirt freshman cornerback Wilrey Fontenot breaks away from a California defender on a kick return during the Golden Bears' victory over the Wildcats last month in Tucson.

By Charles Renning
Arizona Daily Wildcat
Wednesday, November 24, 2004
Print this


Freshman defies family ties to become a Wilddat

As Arizona (2-8) prepares to battle archrival Arizona State (8-2) in the annual Duel in the Desert, the Wildcat football team can be grateful that UA freshman receiver/cornerback B.J. Dennard knows where his loyalties lie.

Coming out of high school, Dennard had an easy choice of which college he was going to continue his football career.

Dennard's dad, Glen, had lettered at receiver at Arizona State in 1984-'85.

His cousin Ryan, more recently, had followed his uncles' footsteps and caught passes for the Sun Devils from 1999-'01.
CASSIE TOMLIN/Arizona Daily Wildcat
The versatility shown by B.J. Dennard during his first season as a Wildcat has allowed the freshman to see time on offense, defense and special teams so far.
B.J.'s secondary coach at Phoenix-area Brophy Prep, former NFL star Mark Carrier, had just gotten a job in Tempe as ASU's new secondary coach.
And B.J.'s best friend and cornerback counterpart at Brophy, Uriah Marshall, also chose to play at Arizona State.
It was a no-brainer when B.J. decided to be an Arizona Wildcat.
"It was hard to go in there," said Arizona defensive coordinator Mark Stoops who recruited Dennard out of Phoenix and had to battle the long, deep ties the freshman had with UA's rival to the north. "The only thing we could do was sell him on what we could do and what we were all about."
Luckily for Stoops and the Wildcats, Dennard chose Tucson over Tempe and is now a muli-threat weapon for the Wildcats, instead of an archrival with the Sun Devils.
"It was nice he believed what we were doing down here and he believed in us as coaches," said Stoops. "We hit it off right away."
Dennard said he only gets light teasing from his friends and family about going against the trend and choosing Arizona over ASU.
"They tease me once in a while, but it's all in good fun," he said.
Even though Dennard says the teasing is all in fun, the football game is so much more.
UA vs. ASU
Arizona Wildcats (2-8)

vs.

ASU Sun Devils (8-1)
Friday, 1 p.m.
TV: Fox Sports Net
Radio: KCUB 1290 AM

Arizona Stadium
"It means a lot. It's the biggest game of the season for me," he said "It's a bowl game, and I'm going to treat it as the Fiesta Bowl or Holiday Bowl or whatever."
Coming into the season, Dennard said him and his teammates made up three goals that they wanted to accomplish this season and one of them was to beat ASU.
"It's been a steady build up since the beginning of the season," he said. "It's been in the back of our mind the whole year so we'll come out ready to play."
As the season has moved on, Dennard's roll with the team has increased, and he has shown why the Arizona coaching staff worked so hard to lure him away from the Sun Devils.
After playing both receiver and cornerback at Brophy, Dennard was moved to just the defensive side of the ball in his first few month with Arizona.
However, his offensive background came in handy when the coaching staff decided to move him to receiver because of the Wildcat's depth at cornerback and their need for another playmaker on offense.
"Selfishly, I wanted to keep him at corner because he's going to be a very special corner, but we needed some guys to step up and be playmakers on offense and we want to get the ball in his hands and make some plays," said Stoops who coached Dennard in his first few months at cornerback.
Beginning the season as a nickel and dime cornerback, Dennard worked himself into several special teams units, and because of his athletic abilities, was moved over to the offense as well.
"He can play several different positions," said Stoops. "I think he could probably anywhere in the secondary. He could play safety or corner and he can play receiver. We just felt like we had to get him on the field. He's too good of a player not to play."
In the Wildcats' 49-9 loss to USC Nov. 13, Dennard opened the game as a kick returner, a special teams player, earned his first start as a receiver and got playing time in the defensive secondary in the fourth quarter.
"I've always been a two-way player all of my life, going back to Pop Warner to high school, so it wasn't that big of a change at all," he said. "I'm enjoying it being able to play both cornerback and receiver."
Arizona receivers coach Charlie Williams said Dennard has made the adjustment well since moving over from the defensive side of the football.
"The more he does it the better he's going to be," Williams said. "He's done a good job so far. We just need to get him the ball so we can see him work."
Senior receiver Ricky Williams said he was also impressed by the freshman's work ethic and eagerness to get better.
"He's just a hard worker. That's one thing I like about him," said the senior receiver. "He's always willing to learn and as a receiver that probably the best thing you can do coming over as a DB."
Whether on offense, defense or special teams, Dennard just wants to show his family, friends, coaches and teammates that it really was the best and easiest choice coming to the UA.


Write a Letter to the Editor