Tucson, state negotiating cost for landfill repair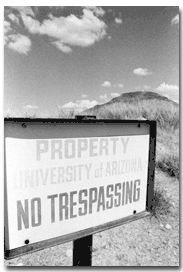 UA could have liability if site contains hazardous materials
As the auction date for the Tumamoc Hill approaches, the state and Tucson are trying to negotiate the repair cost for the landfill that contains UA waste.
There are estimated to be 365,000 tons of waste at the site, which could contain hazardous substances.
The cost of repair, which will most likely include a sealant being placed over the landfill, may be shared by Tucson and the state, James Keene, Tucson city manager, said.
But future examination of the site could raise the costs, which already exceed $1 million.
AARON FARNSWORTH

Dale Hand (right) disputes Bruce Friedemann's stance on the Arizona Daily Wildcat yesterday outside of the Memorial Student Union. Hand, after reading Friedemann's flyer, made his sign and followed him around during the afternoon.

Tricats: a 3-sport job

Ettlich, Fischer train for Ironman

Just imagine a day that starts at the crack of dawn with a five-hour bike ride, followed immediately by a one-hour run in the stifling desert heat.

That's more exercise than most people do in a week, let alone a day.

Non-credit work undermines interdisciplinary program

James E. Rogers, generous benefactor and namesake of UA's law school, has struck again. This time, he donated the "seed money" for a $137 million interdisciplinary program within the James E. Rogers College of Law. Unlike the $115 million donation that prompted the law school's name change back in 1999, the amount of this donation is undisclosed. Whatever the amount, we wonder whether Rogers' money wouldn't be better spent actually providing degrees to UA's law school students.

War and Peace

Acclaimed Indian theater company spreads message of

As a medium-sized city on the edge of a vast desert, Tucson may often seem far from the pulse of world events.

Tonight, however, University of Arizona audiences have a chance to witness an international sensation, as acclaimed Indian playwright Rattan Thiyam and his Chorus Repertory Theatre stop at Centennial Hall on their inaugural United States tour.
Quotable: Tuesday October 17, 2000
"I am very confident this is not related to HIV disease, it's not related to drug abuse, it's not related to steroids or anything Alonzo did."
Dr. Gerald Appel, whose client, Miami Heat Center Alonzo Mourning, will miss the entire 2000-2001 basketball season due to a kidney disorder
Today in history: Tuesday October 17, 2000
In 1777, during the American War for Independence, British General John Burgoyne surrenders over 5,000 British and Hessian troops to Patriot General Horatio Gates at Saratoga in New York.
In 1941, a German submarine torpedoes the U.S. destroyer Kearney 350 miles southwest of Iceland, killing 11 crew members and seriously wounding two.