8 arrested in Admin. lock down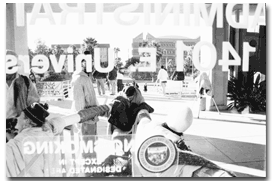 SAS members chain themselves to door handles of Admin. building in protest to Likins
Eight people, including six members of Students Against Sweatshops, were arrested yesterday afternoon after an eight-hour demonstration in which they chained themselves to the four main entrances to the Administration building.
SAS members Jesse Kirchner, linguistics sophomore; Lydia Lester, linguistics junior; Kent Walker, political science junior; Gabe Kirchner, sociology senior; Rachel Wilson, psychology graduate student; and Arne Ekstrom, neurological sciences graduate student were arrested by the University of Arizona Police Department on misdemeanor charges of interfering with the peaceful conduct of an educational facility.
Tucson community members Paula Arnquist, a member of the Southern Arizona Alliance for Economic Justice, and Alicia Weber, a former SAS member, were also arrested on the same charge. All eight protesters were released yesterday afternoon from Pima County pre-trial services and must appear in Pima County Court on Nov. 30 at 8:30 a.m.
"We're really tired, we're hungry and we all want beer," Wilson said yesterday afternoon.
Anti-sweatshop activists lock down, speak up

After eight hours of being locked to the Admin building, 8 SAS members go to jail.

With arms trapped in tubes connected to each other, three Students Against Sweatshop members blocked the entrance to the Administration building doors.

Wildcats seek to spoil Beavers Rose Bowl hopes

Oregon State winless all-time at Arizona Stadium

The Arizona football team seeks to take on a different role tomorrow against Oregon State - the role of the spoiler.

No matter Bush or Gore, system works

Last night, George W. Bush came out ahead in the Florida recount by an unbearably slim margin of 229 votes. Of course, Florida officials are still waiting for the overseas absentee ballots before certification, but the requests for those ballots were overwhelmingly Republican. It appears as though George W. Bush is the president-elect of the United States of America. Let us congratulate the winner, even though we endorsed his chief opponent.

Teen People intern interviews N'Sync, visits Cannes film festival

Media arts senior Nicole Myden has been where most adolescent girls can only dream of going - a party, on the beach, attended by boy band N'Sync.
Quotable: Friday November 10, 2000
"We're really tired, we're really hungry, and we all want beer."
Rachel Wilson, SAS member and psychology graduate student after being released from Pima County pre-trial services for her role in yesterday's protest.
Today in History: Friday November 10, 2000
In 1775, during a meeting in Philadelphia, Penn., the Continental Congress passes a resolution stating that "two Battalions of Marines be raised" for service as landing forces for the U.S. naval fleet.
In 1801, Tennessee becomes the first U.S. state to legislate against dueling when Governor Archibald Roane signs an act passed by the Fourth General Assembly outlawing the "evil practice of duelling."
In 1928, Showa Tenno Hirohito, the 124th Japanese monarch along an imperial line dating back to 660 B.C., is enthroned as Emperor of Japan, two years after his ascension to the throne.
In 1970, the Great Wall of China, previously out-of-bounds, opened to world tourism.