Family Weekend forum to address housing crunch
Parents and students who want to discuss the UA housing crisis will be able to do so at a forum tomorrow. Jim Van Arsdel, director of Residence Life and University Housing, said he hoped the forum would help students and their parents understand both the reason for the shortage and the steps Residence Life is taking to solve the problem.
"This is a situation with potential for misunderstanding," Van Arsdel said. "We realize that there is a great deal of disagreement about what's going on, but we want people to understand what they're disagreeing about."


Feature Photo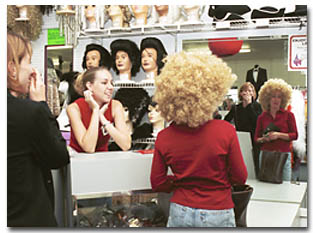 AMY WINKLER/Arizona Daily Wildcat

Tucsonan Annette Flores, right, tries on a wig yesterday evening at Creative Costumes, 828 N. Stone Ave., while store clerk and retail consumer sciences junior Amy Hill, middle, and friend Rochelle Robison look on. Flores and Robison said they plan on being two of the original Charlie's Angels this Halloween.