NEWS
Likins' revised budget stresses research
TEMPE ÷ The UA is bracing for more cuts because the state simply has no money to give, President Peter Likins told the Arizona Board of Regents yesterday.
Likins plans to alter a budget request for next year that he will present to the today at ASU in light of the potentially growing budget cuts. [Read article]


More articles...



SPORTS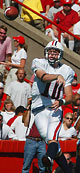 Wildcats tackle Mean Green in final non-conference game
If You Go...
Who: North Texas against UA
Where: Arizona Stadium
When: Tomorrow at 6:07 p.m.
TV: None, so go to the game
Tickets: Individual tickets can be puchased for $7 [Read article]


More articles...



OPINIONS