NEWS
Crowd gets CatFest fever

Security tames crowd for rushing stage, fan eats Twinkie from drummer's rear
Concert-goers rushed the stage and one crowd member ate a Twinkie that was sticking out from between a band member's buttocks cheeks at Friday night's CatFest, which packed Centennial Hall with 2,456 people who came out to see Goldfinger, Authority Zero and Eleventh Hour. [Read article]


More articles...



FEATURES
The Ultimate Experience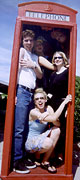 Five-year-old comedy group The Charles Darwin Experience improves with time
Say something funny. Right now. This second. Not too easy, is it?
For the members of The Charles Darwin Experience, an all-student improvisational group that's performed on campus... [Read article]

Two can play improv games
Learn to snort milk out of your nose when Comedy Corner ¸ UA's, and possibly the nation's, longest-running campus comedy group ¸ returns to performing at noon this fall. [Read article]




SPORTS
Passing game keys blowout win

Johnson throws for 381 yards, defense shuts down NAU in 37-3 season-opening victory
Northern Arizona University came into Tucson looking to make a big point, but ¸ unfortunately for them ¸ only scored three.
The Lumberjacks managed only three points Saturday night and could not stop Wildcat senior quarterback Jason Johnson, who had 318 yards passing by halftime, in a 37-3 loss in front of 48,446 people in Arizona Stadium. [Read article]


More articles...



OPINIONS