Monday, March 28, 2005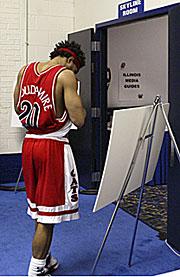 ILLINOIS 90 • UA 89
Illini overcome 15-point deficit in overtime win
ROSEMONT, Ill. - Once again, the NCAA Tournament has proven that no lead is big enough, and no lead is safe, at least until the final buzzer sounds.
No. 1 seed Illinois, playing with a virtual home-court advantage just a car ride from its Champaign, Ill., campus, overcame a 15-point Wildcat lead with 4:04 left to send the game into overtime, and eventually won 90-89. [Read article]

·
Men's Hoops Analysis: From victors to victims in stunning breakdown
·
Taking stock of Hassan
·
Errors, rain mar weekend sweep for No. 2 softball
·
Familiar faces lead track
·
No. 13 baseball wins first Pac-10 series of season
·
Commentary: Despite loss, Cats made standout plays
·
Gymcats finish second at Pac-10s
·
No. 6 Laxcats topple No. 20 Chapman
·
Ruggers extend winning streak against ASU
·
Tennis teams suffer loss-filled weekends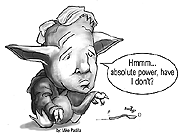 Just before spring break, student leaders celebrated the overall success of the ASUA elections that named Cade Bernsen the new president of UA student government. While no election is without its bumpy moments, election officials were particularly excited about the 4,452 students that voted. This was the highest number in recent years, and those involved took it as a sign that students are becoming more engaged in student government.
Of course, the more cynical observer can't help but notice that more than 80 percent of students didn't participate. At first, this makes the celebration of the high turnout seem a little strange, especially seeing as in November's actual presidential election, more than half of voters went to the polls. Does this mean that the 4,000 votes garnered by this year's slate of Associated Students of the University of Arizona candidates were actually dismal failures? Not at all. [Read article]

·
Mailbag
Latest Issue: March 24, 2005
Photography may be the most accurate visual representation of reality, while sculpture can offer the most abstract and symbolic representation of reality. But the Museum of Contemporary Art's new exhibit uniquely combines the two with the exhibits "Dave Lewis: State Furniture" and "Dan Budnik: David Smith at Work."
As a part of their Origins series that examines the roots of post-modern art, this exhibition presents Budnik's poignantly real photography of the great 20th century sculptor David Smith as a compliment to Lewis' socially critical sculpture exhibit that examines power. [Read article]

·
Tucson and Campus Calendar
Campus
·
Spring break in Couchville
·
Able intern coordinates senior exhibit
·
CCP showcases '70s
·
Art of Japanese manholes leaves lasting impressions
Film
·
'Ring 2' runs in circles
·
'Chorus' sings, feels good
Music
·
CD Review: 50 Cent
Literature
·
Prose's latest satire shows teeth, wit
Latest Issue: March 23, 2005

From drunken fraternity guys and conspiracy theorists to bug-eyed weirdoes who just creep you out, the strangest customers who enter the U-Mart, always leave a lasting impression on the shop's employees, who just want a little courtesy and respect for their hard work.
Instead, workers occasionally get a mess to clean up or an eye full of spittle from some screaming customer upset that the cashier doesn't want to play 20 questions while other angry customers wait in line.
Despite the various fields and numerous courses available to the students at the UA, it seems that some things are not necessarily taught - or learned - in the classroom. [Read article]

·
Treacherous tales from the ultimate "U-Martyr"

showAds('bigbutton')?>






showAds('mediumbutton')?>


Monday
---
5:30 pm
UATV: Wildcast
6:30 pm
UATV: Daily Dose
7 pm
From Justin to Kelly
9 pm
Dumb & Dumber
11 pm
All About the Benjamins

Show Schedule
Interview Archives

showAds('wildlinks')?>